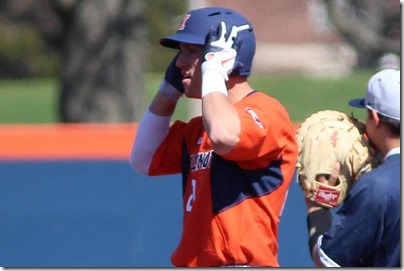 Doran Turchin's grand slam on Saturday helped defeat Iowa
Despite outscoring the Iowa Hawkeyes by a 16-12 margin this weekend, Illinois (13-16, 4-5 Big Ten) managed just one win in their three game series against Iowa (14-15, 5-4 Big Ten).  The Illini sandwiched their highest scoring game of the year in between two one-run losses. 
Highlights of the weekend included season highs by Cody Sedlock (11 strikeouts), Michael Hurwitz (four hits).  Saturday's 10-run game was fueled by three homeruns by Doran Turchin, Trent Hammond, and Jason Goldstein.  Turchin's homer was a grand slam.
For the second weekend in a row, Illinois lost a game on the last pitch because of an mistake by the Illini.  On a safety squeeze with the game tied in the bottom of the ninth, pitcher J.D. Nielsen booted the ball throwing it home.   To be fair, it may have been a close play either way.
Starting pitcher Cody Sedlock threw career highs with 8 innings and 11 strikeouts.  Michael Hurwitz and Dan Rowbottom both had multiple hits in the game . 
 

Illinois got their revenge in the second game of Saturday's doubleheader though.  Not only did they defeat the Hawkeyes but they scored the most runs in one game all season. 

We have Trent Hammond, Jason Goldstein and Doran Turchin to thank for that… especially Turchin who hit a grand slam in the fifth inning.  The offensive display didn't stop there.  Mike Hurwitz tied a career best with four hits in the game. 

Pitching wasn't so bad either.  Doug Hayes won his fourth game of season.  He's now 4-2.  Chuck Naso pitched a nearly perfect 2 1/3 innings and Matt James close it out with one more frame. 

In short, everything seemed go right in Game 2. 

 

 

Sunday's game was one of lost opportunities.  Down by two runs, the Illini loaded the bases in both the eighth and ninth innings but could only score one run.  

Cole Bellair was hot early but a three-run fifth inning by Iowa gave them the lead.  Both J.D. Nielsen and Nick Blackburn kept the Hawkeyes scoreless for the balance of the game. 

Once again, it was Michael Hurwitz who came through with the bat.  He was 2 for 4 with an rbi.  For the series, Hurwitz had eight hits in 14 at bats. 
Random Ramblings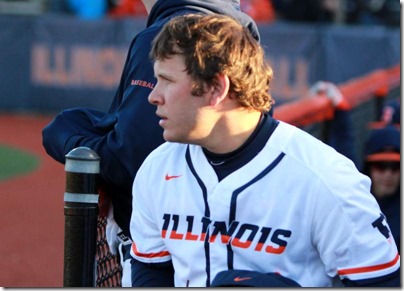 Michael Hurwitz: 8 for 14 for the weekend
With the series loss, Illinois is now 4-5 in Big Ten play.  They sink below Iowa in the standings and are in ninth place.  Michigan State and Minnesota have both lost just one game this season while Purdue remains winless at 0-9.  Alas, Purdue is not on our schedule this season. 
Doran Turchin's grand slam help propel him to lead the team in rbis as of today.  His 18 ribbies is one ahead of Jason Goldstein and two over Anthony Drago. 
While we're talking stats, Cody Sedlock has been throwing some heat.  This season, he has struck out 63 batters in 51 2/3 innings. He leads the Big Ten by a sizable margin (Minnesota's Dalton Sawyer 53 Ks comes in second).
Next up
Tuesday's game is another non-conference midweek matchup.  Illinois will be taking on Illinois State this time at Illinois Field.  First pitch is at 6pm. 
There is a series this weekend but it will be against a non-conference team.  The St. Louis Billikens will be coming to town. 
Go Illini!
Related posts