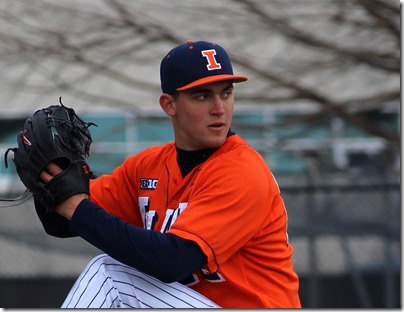 Nick Blackburn leads the Big Ten with four saves
Now that three weeks have passed, it's worth a moment to take a peek at the Big Ten Baseball standings…
The Michigan State Spartans are off to a surprisingly great 8-1 start and their neighbor Michigan is right behind them with a 7-2 mark. 
Both Indiana (3-7) and Nebraska (3-6), who topped the preseason poll, are lagging behind after three weeks.
As for Illinois (6-3), well, they can quietly keep up their good work.  They were picked to finish sixth in the conference in the coaches' preseason poll.  At this rate, they seem to be doing fine in this new era.  The pitching has held firm and they've gotten enough hitting especially in this past weekend to be successful.  Currently, Cody Sedlock is among the conference leaders with 20 strikeouts and Nick Blackburn leads with four saves.  With a .421 average, catcher Jason Goldstein is fifth in the Big Ten.
It's still early, of course.  Anything can happen in 2016 and once the Big Ten conference season starts, it's anyone's ballgame.  The Big Ten season starts soon too!  Illinois baseball's Big Ten opener which is coincidentally its home opener, will be in just in few weeks (full schedule here).  They'll take on Penn State on March 25th at Illinois Field in Champaign, Illinois. 
Related posts