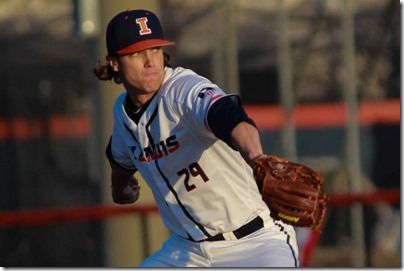 Cody Sedlock improves to 4-1 for the season
With a little help from his friends, Cody Sedlock got Illinois baseball's conference season off to the right start.  Sedlock threw seven shutout innings to give Illinois a 5-0 win over Penn State on Friday at Illinois Field's home opener. 
Charlie Naso threw two scoreless innings in relief while Anthony Drago and Jack Yalowitz both collected two hits in the game. 
The win improves Illinois to 9-10 and gives them the first win in Big Ten conference play.  Penn State's record is now 9-11 for the year.
Jack Yalowitz raps a hit in the first inning of Friday's game

Pretty much everything went right for Illinois home opener and their first Big Ten game of 2016.  They got a good lead early and pitching was spot on to hold that lead. 

Early PSU mistakes in the form of two HBP and an error helped Illinois score four in the first inning.  That rally couldn't have happened without base hits from Anthony Drago and Jack Yalowitz, though. 

The real story was the pitching effort of starter Cody Sedlock and reliever Charlie Naso.  Sedlock went seven innings and struck out a career high ten batters.  Naso, who only just earned his first college win on Tuesday was called on again.  He struck out three and kept the Lions scoreless for the shutout. 
More of my photos are here at the Illinois Baseball Report photo gallery
Next up
Two more games left against Penn State.  Note that there is a schedule change.  There will be a doubleheader on Saturday and no game on Sunday.  Game time on Saturday is 11am. 
Go Illini!
Related posts