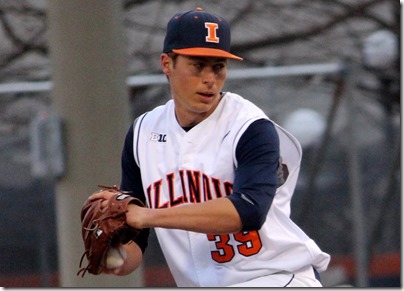 Tough Sunday loss for Andrew Mamlic
I'm sure none of the Illini baseball players and certainly not Coach Hartleb could have seen a 1-3 weekend coming.  After a solid win behind starter Cody Sedlock and 3B Trent Hammond (3 for 3) on Friday, Illinois dropped the next game against the underdog Huskies on Saturday and the final two against the Southern Illinois Salukis. 
Despite good, solid starts from all four starting pitchers, Illinois could only come home with one win.  Errors on the field, lack of offense and inconsistent bullpen contributed to the three losses.  Illinois who started out 6-3, is now looking at a 7-10 record and is one game away from the Big Ten conference season. 
Quick summary of the Carbondale weekend:
Illinois got off to a good start Friday with Cody Sedlock on the mound.  Sedlock was back to prime form striking out seven batters and allowing just four hits in seven innings.  He got the win and advanced to 3-1 for the year.  J.D. Nielsen pitched a scoreless ninth for his second save. 

But how about Trent Hammond?  The Illini third baseman collected three hits and scored three runs in Friday's win.  Pat McInerney went 2 for 4 with three rbis and Dan Rowbottom got a start in left field and went 2 for 3. 

 

 

It's safe to say that Saturday was not Illinois' day.  NIU could have been seen as an easy wins for Illinois.  They won on Friday but by a narrow margin.  This was not so on Saturday. 

For the third time in a row, Cole Bellair pitched a very solid game but did not get run.  He did give up an earned run, though.  For the first time this year, Bellair gave up a run charged to him.  It was three runs in all as defense was an issue.  An error led to an ugly seven run rally by the Huskies which gave them the lead and eventually the game. 

Dan Rowbottom again had a multi-hit game. 

 

 

Things didn't get much better later in the afternoon on Saturday.  While Doug Hayes pitched a good game (three hits and two runs in six innings), the offense just couldn't get it going. 

Both teams scored one each in the first two innings then it was goose eggs till the ninth.  J.D. Nielsen was the unlucky one to get the loss as SIU plated a walk-off run in the bottom of the ninth in the 3-2 game. 

Check out Rowbottom though.  Three more hits for him. 

 

 

Illinois was certainly hoping for better things on Sunday against the Salukis.  Starter Andrew Mamlic sure did his part.  He got into a pitchers' duel with SIU's Michael Baird.  Mamlic held the Salukis scoreless till the seventh inning when he gave up a sole unearned run. 

As for the Illini offense, it was practically non-existent.  Baird flirted with a no-hitter until the ninth inning when pinch hitter Jack Yalowitz singled.  Baird still got the complete game win and Mamlic went home with a tough-luck loss. 
Random Ramblings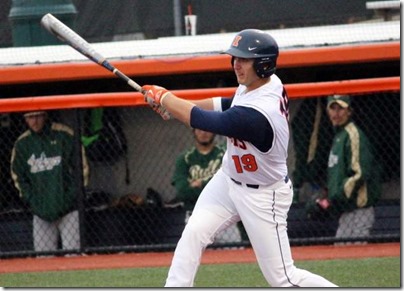 Coach Hartleb is trying Dan Rowbottom (above) in left field and he's responding with the bat.  Batting in the third spot in the lineup, Rowbottom collected seven hits over the weekend.  Row is now hitting a nifty .364 in 12 games. 
Four quality starts for the weekend and Illinois still manages to win just one.  I'll give you three reasons… Inexperience, bullpen and lack of timely hitting.  I'm sure we'll get in stride when Big Ten season starts.  We have seen some good numbers from new guys and that is encouraging. 
I'm sure the boys can't wait to play in home territory, either. 
Next up
Illinois has its first midweek game on Tuesday.  They travel to Normal to play the Redbirds of Illinois State.  Game time is an early 4:30pm start. 
Next weekend is the home opener!  Not only that, it's the Big Ten opener as well.  Illinois will host Penn State at Illinois Field for a three game set on Friday, Saturday and Sunday.  Game time on Friday is 6pm. 
See you at the ballpark!!
Related posts