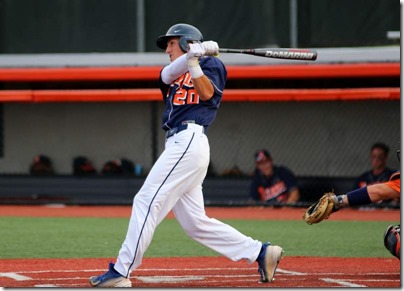 Freshman CF Doran Turchin raked last weekend at a .500 clip
For the second straight weekend, Illinois baseball travels to Florida.  This time, they are taking part in the Stetson Invitational in DeLand, Florida.  They will take on three teams, Central Michigan, host Stetson and Villanova. 
The starting pitching has been pretty solid so far this season.  Through two weeks, Cody Sedlock, Doug Hayes and Andrew Mamlic have combined for a 2.77 ERA and a formidable 9.0 Ks per nine IP.  There's no reason for Coach Hartleb to change that formula. 
Friday  Cody Sedlock: 1-0, 2.08 ERA
Saturday  Doug Hayes: 1-1, 3.00 ERA
Sunday  Andrew Mamlic: 1-0, 2.53 ERA
Fighting Illini Weekend Preview of the Stetson Invitational
Melching Field

DeLand, Florida

Fri. March 4

12:00 pm CT

Sat. March 5

6:00 pm CT

Sun. March 6

10:00 am CT

vs

W-L: 0-7

W-L: 4-5

W-L: 2-6
My take on the Stetson Invitational:
Illinois' opponents at the Invitational have a combined 6-18 record so far in 2016. I know in the back of everyone's mind that can lead to complacency.  I know Coach Hartleb better than that though.  He'll push the guys to take every game seriously. 
Central Michigan just came off a 20-1 loss and they have something to prove and if they can do it against a team like Illinois, all the better for them.  Stetson and Villanova both got off to slow starts this season but rebounded for better performances after the first weekend. 
This weekend, I'm looking for the offense to really show us what they have. 
Random Ramblings
Catch this weekend's games on AM-1400 WDWS with the silky-smooth voice of Dave Loane.  You can also follow along on Stetson's live stats or if you're willing to shell out some bucks, you can watch it live on HatterVision.
This week, Illinois announced their promotional schedule for their home games.  Get out your calendar and mark it up! 
Opening Day (March 25)
Bunny at the Ball Park (March 26)
International Night – part of International Week (April 5)
Country Day (April 19)
As-Seen-On-TV-Night (April 23)
Super Hero Day (April 24)
Kids Day (April 30)
Star Wars Day (May 4)
Spring Cleaning Day (May 20)
I FUND Day (May 21)
Weekly discounts on concessions are also announced including half priced sodas on Tuesday games.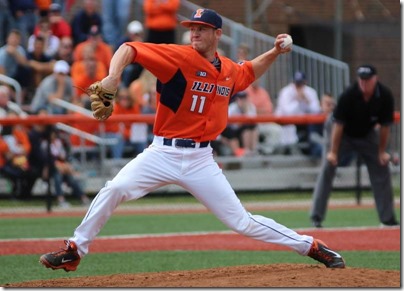 If you hadn't already noticed, former Illini darling Tyler Jay (above) is starting to make headlines up north.  Ranked as the #4 prospect in the Twins' organization, Jay is beginning to make the transition from reliever to the starter role according to the Star-Tribune. 
Go Illini!
Related posts