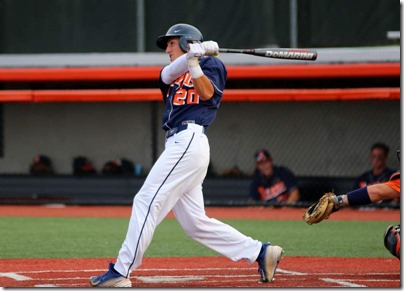 CF Doran Turchin: 8 for 18 and two homers for the weekend
Well, it looks like Illinois baseball (6-7)still has a few kinks to work out.  A week after they swept the Stetson Invitational, they were swept four games straight themselves at the Coastal Carolina Invitational in Conway, South Carolina.  Illinois dropped two to UNC Greensboro Spartans and two more to host Coastal Carolina Chanticleers this past weekend. 
Starting pitching was nowhere near the quality that we have seen so far, the defense had holes and the bullpen was ineffective at best.  Ironically, the best pitching performance was by Cole Bellair who made his first start of the year. 
Quick summary of the damage done:
It was a rough outing for Cody Sedlock (12 runs in 5 2/3 IP) but he wasn't helped by the Illini defense. Two errors contributed to six unearned runs. 

The offense did scored nine runs and they have freshman Doran Turchin to thank for that.  Turchin hit two homers and a triple and drove home four runs.  Anthony Drago contributed a solo homer for the cause. 

 

 

It's a shame that starter Cole Bellair couldn't get a W for his effort on Saturday morning especially after coming back from the drubbing that the Illini got the day before.  Allowing just four hits, Bellair was spot on and did not give up an unearned run.  J.D. Nielsen and Nick Blackburn who are usually tough to hit, just didn't have it and gave up four runs (three earned) for the extra inning loss.

Pat McInerney doubled twice in the game and Adam Walton also had a multi-hit game. 

 

 

Like Sedlock, starter Doug Hayes had his first off day of the season.  He gave up five earned runs in as many innings.  Similar to Friday's game, he wasn't helped by the defense. Illinois committed four errors. 

McInerney continued his hitting by knocking one out of the park and Turchin went 2 for 4 with a double. 

 

Things just didn't get any better on Sunday went the Chants scored a quick four runs in the first inning.  Andrew Mamlic and Matt James let up 15 hits to Coastal Carolina.  While the Illini did rack up 10 hits, they were only able to plate four runs. 

3B Jalin McMillan made the most of his appearance on Sunday.  He went 2 for 2 with a homer.
Random Ramblings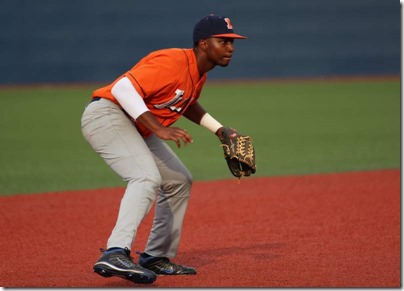 Jalin McMillan hit his first career homer
I think it's time to look at the bright spots of the weekend.  Yes, the Illini went 0-4 but there were a couple things that went right. 
Cole Bellair- Has Coach Hartleb found a new starter?  After his seven inning performance on Saturday, Bellair has still not given up an unearned run this season. 
Doran Turchin- The new centerfielder went 8 for 18 with two homers and six ribbies. 
Plus, I may be reaching here but when games get out of hand, coaches tend to bring in the second-stringers.  This happened more than we would have liked this past weekend.  But if we're going to look for a silver lining, we can see Jalin McMillan who went 2 for 2 and a homerun on Sunday and 1 for 1 on Friday.  David Craan came in as a sub on Friday and got a hit. 
While it didn't affect the overall outcome, I'm sure the coaches were still paying attention. 
Next up
How do I know that our home opener is coming up soon?  The games are moving further north.  Next weekend, Illinois has four game set in Carbondale.. They will face the Northern Illinois Huskies for two and Coach Hartleb's alumnus Southern Illinois Salukis for two more. 
Go Illini!
Related posts