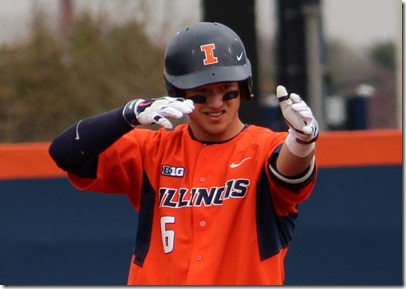 After a big weekend, Adam Walton is now hitting .306
A week after their clean sweep at the Stetson Invitational, Illinois baseball (6-3) looks to continue their success on the road again.  They will participate in four games at the Coastal Carolina Invitational in Conway, South Carolina.  They will face UNC Greensboro for two games and then take on host Coastal Carolina for two more.
Fighting Illini weekend preview
With the four-game schedule this weekend, Coach Hartleb is trying Cole Bellair as a starter on Saturday.  Bellair has been effective out of the pen so far this season.  That's probably an understatement.  So far, he hasn't given up a run in 6 1/3 innings.  We'll see how he does in a starting role. 
Here are the starting assignments this weekend:
Friday  Cody Sedlock: 2-0, 2.37 ERA
Saturday Game 1  Cole Bellair 0-0, 0.00 ERA
Saturday  Game 2 Doug Hayes: 2-1, 2.65 ERA
Sunday  Andrew Mamlic: 1-1, 2.76 ERA
Springs Brooks Stadium

 

Conway, South Carolina

Fri. March 11

11:00 am CT

Sat. March 12

11:00 am CT

 

vs

W-L: 8-4

Sat. March 12

3:00 pm CT

Sun. March 13

10:00 pm CT

vs

W-L: 7-6
My take on the Coastal Carolina Invitational: 
First up, it's the Spartans of UNC Greensboro (8-4).  Wow, they can hit.  To date, the Sparts are hitting .360 and almost 9 runs per game.  Maybe it's a testament to the players or perhaps the quality of pitching they are facing but I'm giving them the benefit of the doubt.  The Illini pitchers will get a real test this weekend.
The Chanticleers of Coastal Carolina (7-6) were ranked #22 in the country up until this past weekend.  They have a source of power coming from Zach Remillard who has gone yard five times already.  They're Achilles Heel is pitching with a 5.54 ERA.  Only one starter has a ERA under 5.00.  To be fair, they're a tough team cursed (or blessed?) with a very tough schedule
Random Ramblings
For those interested in following the games this weekend, you can hear Dave Loane on AM-1400 WDWS and live stats are available at goCCUsports.com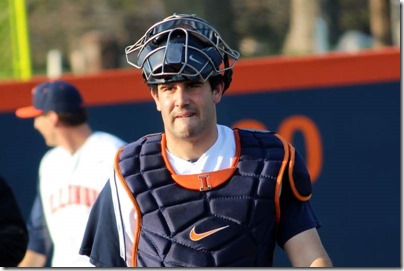 Jason Goldstein gets all kinds of accolades and they are all deserved.  This week, the Greater Wichita Area Sports Commission announced the watch list for the 2016 Johnny Bench Award and Goldy's name was on it. 
This shouldn't surprise anyone.  Goldstein is leading the Illini with a nifty .421 average and seven rbis.  He is also doing a fine job handling the Illini pitching staff who have gotten off to a great start.  The Sedlock/Hayes/Mamlic trio only gave ten runs in the Stetson Invitational. 
Congrats, Jason!
Hey, is that tat on Tyler Jay's arm new?  The former Illini hurler gets interviewed by Ryan Baker. 
Go Illini!!
Related posts