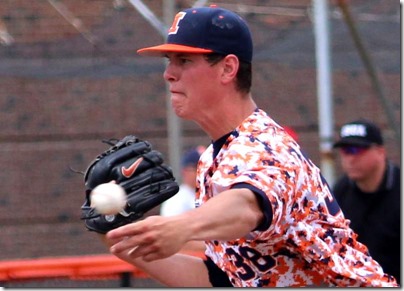 J.D. Nielsen effective out of the pen with a 1.74 ERA
You could almost say that Illinois baseball (6-7) is going to the dogs.  This weekend the Illini will face the Huskies of Northern Illinois and the Salukis of Southern Illinois.  The good guys are traveling to Carbondale, Illinois for a four set.  They will face the Huskies for two games and the Salukis for two more.  After getting swept last weekend at the Coastal Carolina Invitational, the Illini are looking for some wins. 
There are no changes in the pitching assignments.  Certainly not in the addition of Cole Bellair who did not allow an earned run in seven innings.  He was one of the few bright spots in last weekend's tournament. 
Fighting Illini weekend preview
Here are the starting assignments this weekend:
Friday  Cody Sedlock: 2-1, 4.01 ERA
Saturday Game 1  Cole Bellair 0-0, 0.00 ERA
Saturday  Game 2 Doug Hayes: 2-2, 4.09 ERA
Sunday  Andrew Mamlic: 1-2, 5.06 ERA
Itchy Jones Stadium

 

Carbondale, Illinois

Fri. March 18

1:00 pm CT

Sat. March 19

1:00 pm CT

 

vs

W-L: 2-14

Sat. March 19

3:00 pm CT

Sun. March 20

3:00 pm CT

vs

W-L: 9-6-1
My take on our In-State neighbors:
2016 has not been kind to the Northern Illinois University Huskies.  So far, they are 2-14 this year.  Justin Fletcher (no relation to Casey or Darrin) is doing all he can from the plate.  He's batting .429 and playing every day. 
The pitching is a weakness.  Their ERA is in double digits at 10.05. 
Southern Illinois is a different story.  They've got a winning record and a good balance of pitching (Michael Baird with a 1.75 ERA in four starts) and hitting (four starters with a .300 plus batting average).  SIU is especially tough at home as well. 
Summary:  Load up on Huskie pitching, guys! 
Random Ramblings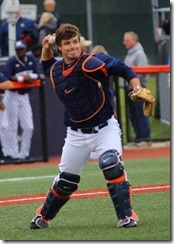 This week, Jason Goldstein netted another award.  This time, he garnered the Senior CLASS Award for student athletes.  CLASS is an acronym for Celebrating Loyalty and Achievement for Staying in School.  Goldy does get credit for passing up the fame and fortune of the minor leagues to stay on for his senior year. 
Goldstein probably needed some good news,  He was injured in Saturday morning's game against UNC Greensboro.  Reports say he pulled a hamstring and will hopefully be back by the home series against Penn State.  Fortunately, Illinois has a great backup in Mark Skonieczny (right).  Skony who could probably start for most other Big Ten teams, is capable behind the plate and good with the stick.  He had a good summer with the Northwoods League last summer, making the All-Star team. 
Coach Dan Hartleb will be making a homecoming of sorts this weekend.  Not only was he an assistant coach at SIU, he was a pretty decent catcher for the Salukis in his college days.  He batted over .300 for his career at Southern.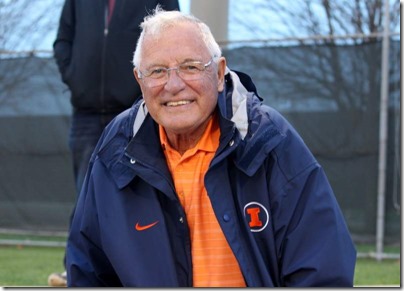 Itchy Jones:  baseball tactician
Also, you probably noticed the name of the stadium this weekend,  "Itchy Jones Stadium".  All Illinois Baseball fans should know that name.  Itchy Jones was the long time coach at Southern before he left for greener pastures at Illinois Field.  He skippered for Illinois with Hartleb as his protégé until his retirement in 2005.  Jones has a 474-373-1 record and is currently 28th on the all-time wins list among college coaches.  
…he still comes to Illinois games, by the way.  Great guy to sit and talk baseball strategy. 
Go Illini!!
Related posts