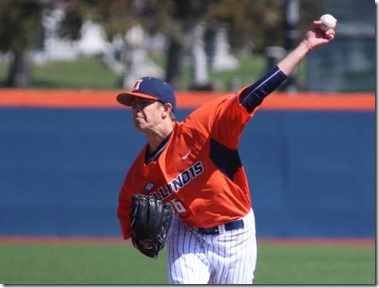 Hayes improves to 3-2 with a one-hitter over Penn State
Two fantastic starting performances by Illinois' Doug Hayes and Cole Bellair resulted in just win in Saturday's doubleheader with Penn State.  Hayes pitched the first complete game one-hitter by an Illini pitcher in nine years to win Game 1 by the score of 6-1. 
Bellair allowed just one run in eight innings but the Nittany Lions rallied in the ninth to take the last game of the series 5-3. 
Illinois is now 10-11 and 2-1 in the young Big Ten conference season. 
Jason Goldstein (right) gets a howdy from Pat McInerney at home plate after his homer

Game 1 saw starter Doug Hayes hurl one of the best outings by an Illini pitcher in a long time.  In fact, Hayes' one-hitter against Penn State on Saturday was the first since Mike Stankiewicz accomplished the feat back in 2007. 

Hayes struck out three batters but more importantly, he only walked one batter.  In all, it took 94 pitches to complete the game. 

Anthony Drago watches his homer sail over the wall in the fourth inning

Pat McInerney led the hit parade with two singles and a double.  However, it was the fourth inning when Illinois piled on the runs.  Both Jason Goldstein and Anthony Drago went yard that inning and Illinois scored four. 

See my photos from Game One on Saturday

 

 

Cole Bellair:  8 IP, 1 ER, still no win

Poor Cole Bellair.  He can't buy a win.  In his last three starts, he has given up just two runs and has gotten a no-decision in each one.  To make matters worse, Illinois has lost each game he has started.  Bellair's ERA now hovers at a tiny 0.65 mark. 

He was in a tight pitching matchup with Penn State's best starter, Justin Hagenman.  Through eight innings, both starters were on their game with a 1-1 tie.  In the ninth with Bellair out of the game, Penn State broke the game open with a four-run rally.  Illinois came back with two runs in the bottom of the inning but that just wasn't enough.
See my photos from Game Two on Saturday
Random Ramblings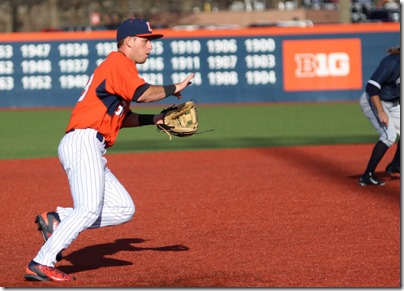 In all, a favorable weekend for the Illini.  It's just too bad we couldn't go out on a winning note.  However, three great starting performances and some fireworks from the bat.  I was most impressed by the defense by the young team. 
Speaking of defense, freshman third baseman Trent Hammond (above) is already making people turn heads with his defense.  He's already becoming a favorite photo subject of mine.  Not only that, Big Ten Network has taken notice of him…
They call it the hot corner for a reason, as Trent Hammond proves here for @IlliniBaseball. #BTNStandout https://t.co/YDQSnrU3KT

— Big Ten Network (@BigTenNetwork) March 27, 2016
Next up
On Tuesday, Illinois will play an away midweek game against Indiana State (who almost beat Indiana on Saturday).  It's an early game at 3pm. 
This coming weekend, the Illini will play three games against the Nebraska Cornhuskers in Lincoln.  First pitch on Friday is 6:35pm. 
Go Illini!
Related posts