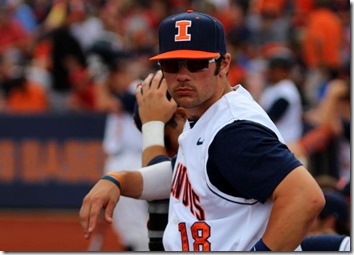 Anthony Drago was 3 for 4 with a HR vs. Villanova
If every weekend could go like this past one for Illinois baseball, I'm sure Coach Hartleb wouldn't mind.  Not only did the Illini sweep all three games at the Stetson Invitational in DeLand, Florida but everything seemed to click.  Starting pitching continued to be on their game, the bullpen was solid and most importantly, Illinois never gave up the lead throughout the whole weekend. 
With the sweep, Illinois now has a 6-3 record and have won six of their last seven games.  Proven veterans like Jason Goldstein (.421) and Adam Walton (.306) are playing up to expectations.  Some new guys including freshmen,are stepping up too.  That includes junior Anthony Drago (.333), freshman CF Doran Turchin (.278) and freshman Cole Bellair (6 1/3 scoreless IP out of the pen). 
Weekend stat:  Illinois starters Cody Sedlock, Doug Hayes and Andrew Mamlic gave up a total of five runs for the three games. 
Quick summary of each game
OPPO @ShillPickle three-run bomb.

B1 | #Illini 5, CMU 0 pic.twitter.com/Q2subn632J

— Illini Baseball (@IlliniBaseball) March 4, 2016
It didn't take long for the Illini offense to get on the board.  With the help of Luke Shilling's homerun, they scored five runs in the first inning.  Adam Walton paced the team with three hits and Pat McInerney contributed a homer and three rbis. 
Starter Cody Sedlock put in a solid start for his second win of the season.  He struck out six batters in six innings and only allowed two runs in five hits. 
Once again, Doug Hayes shows that he has the right stuff.  In five innings, he kept the Hatters to just one run while striking out eight.  The trio of JD Nielsen, Cole Bellair and Nick Blackburn combined for a near perfect four innings of relief work allowing just one hit. 
Michael Hurwitz put Illinois on the board with an rbi base hit in the fifth inning.  Jason Goldstein continues to rake as he went 2 for 5 while new guys Doran Turchin and Jack Yalowitz both had key hits. 
Andrew Mamlic got his due on Sunday against Villanova getting his first win of the season.  Mamlic struck out six in 5 2/3 innings and gave up just three hits.  Once again, Nielsen, Bellair and Blackburn came on in very solid relief pitching.  They kept Villanova scoreless for three plus innings.
The top of Illinois' lineup was tough on Sunday.  Adam Walton, Goldstein, McInerney and Anthony Drago all had multi-hit games.  Drago went 3 for 4 with a homerun in the second inning. 
Random Ramblings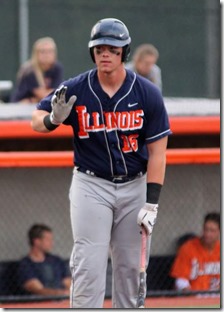 Luke Shilling's 3-run homer on Friday's game came in his very first start as an Illini.  He's itching to play I'm sure .  Don't forget, Luke (left) can also pitch off the mound, too… After an 0 for 8 start against Tulane, Pat McInerney has gone 7 for 23 including a homer… After this weekend, Illinois pitching has 84 strikeouts in 81 innings. 
The Big Ten Network has come out with their broadcast schedule for baseball in the 2016 season.    Four Big Ten matchups and one midweek game against Eastern Illinois will be broadcasted in one manner or another.  It won't be too long as the Saturday of home opening weekend against Penn State will be shown on the Big Ten Network on March 26th.   The Fighting Illini website has parsed out the dates that are relevant to the Illinois baseball team
Next up
Next weekend, Illinois will return to the Coastal Carolina Invitational for three games.  They will play two games against UNC Greensboro and a final one against host Coastal Carolina.  Game time is 11am on Friday against UNC Greensboro. 
Go Illini!
Related posts