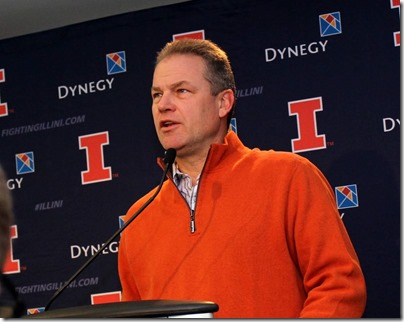 Eight floors above the snow-covered football field of Memorial Stadium, there was talk of baseball over the lunch hour. 
Catcher Jason Goldstein, pitcher JD Nielsen, and head coach Dan Hartleb came to talk to the local sports media about the Illinois baseball program at the expansive media box atop of the Memorial Stadium.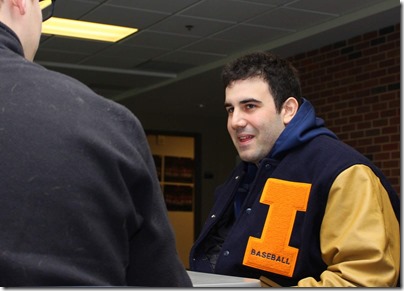 I got there as Goldstein was being questioned by Loren Tate and the rest of the press crew.  He knows how to handle himself, I'll give him that.  By then, it was time for Coach's media statement. 
A few key points from Hartleb's statement:
Taking on Tulane:  The Illini will be playing #19 Tulane this Friday.  Playing a top team will be a good experience for the team especially the new guys. 
Peer leadership:  Coach Hartleb emphasized the importance of the upperclassmen stepping up, playing a leadership role and helping the incoming freshman.  He specifically called out Pat McInerney for his ability to help problem solve with the new guys. 
Roster shuffle:  Hartleb said that while some positions are pretty much set in stone, there may be some "shuffling" till players find their positions they can contribute the most.  Specifically, he mentioned there are four freshmen vying for the centerfield spot.  One of those may play left field if they don't win the centerfield job.  There were a couple players mentioned who are capable firstbasemen, McInerney and Matt James.  To complicate matters (in a good way), James is an option on the mound too. 
Starting pitching: For this weekend, the three pitchers will be Cody Sedlock, Doug Hayes and Andrew Mamlic.  I got the sense that like the lineup, this will be a work in process with the exception of Sedlock who Hartleb says will most likely be a MLB draft prospect by the end of the year. 
Relief pitching:  Not surprisingly, Nick Blackburn and JD Nielsen will be the core pitchers of the Illini bullpen.  Both are solid out of the pen. 
In his talk with the press, Goldstein mentioned that Michael Hurwitz is back, healthy as ever.  He is slated as the starting secondbaeman for the season. 
There was some time for levity though.  JD Nielsen and Jason Goldstein have a little fun mugging for the camera.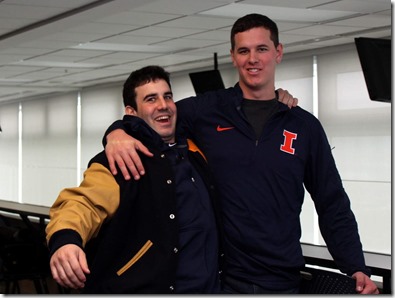 The Illini baseball team will take on #19 Tulane this Friday in New Orleans.
Related posts