Once a year, Illinois Baseball's extended family gets together in one room to celebrate the team's successes, to meet the whole team and to raise money for special projects for the program.  Last Saturday night was the 2016 Illinois Baseball Hot Stove Banquet which is jointly sponsored by the Illini Dugout Club and the Illini Baseball program.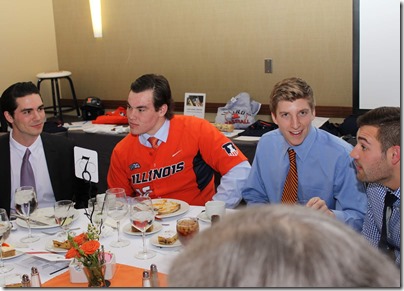 The awesomeness at our table was (l to r) former Illini Luke Joyce, current RHP/1B Luke Shilling, former Illini Rob McDonnell and former pitcher Ronnie Muck
Thanks to the generosity of Dan and Diane McDonnell, my wife and I had a seat at their table.  And what a seat it was!  Not only did we share a table with Dan and Diane but Art and Dewi Krug sat with us as well.  We had the pleasure of four baseball players in our company as well.  Former Illini pitchers Rob McDonnell, Ronnie Muck and Luke Joyce all joined us and even better, Luke Shilling, freshman pitcher and firstbaseman was our designated player at our table.  There was plenty of laughter and stories at table #7.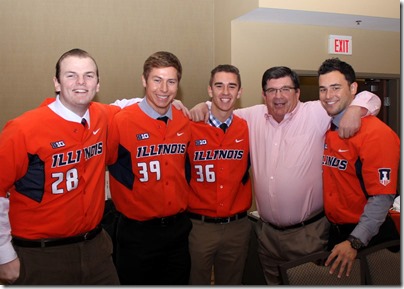 Dan McDonnell pals it up with Chuck Naso, Andrew Mamlic, Doug Hayes and Adam Walton
To make them easily recognizable, each of the current Illinois baseball players were dressed a formal orange jersey for the evening.  During the ceremony, they each introduced themselves to the crowd and said a little bit about who they were.  For fans of the team, it's a handy way to get familiar with the new guys.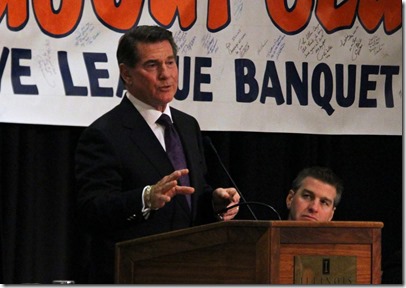 Former Los Angeles Dodgers star Steve Garvey was the keynote speaker for the night.  I don't know how we got someone of Mr. Garvey's caliber to come to HSB 2016 but Coach Hartleb must have connections. 
Garvey spoke about his life beginning with his childhood as a batboy with the Brooklyn Dodgers.  He continued to talk about his college career with Michigan State.  His story on how he was recruited by the Dodgers was very well received by the crowd.  The core message of his talk was what it took to be successful.  Success, on the field or off, doesn't happen by mistake and it doesn't just happen.  "Seize the moment", he said.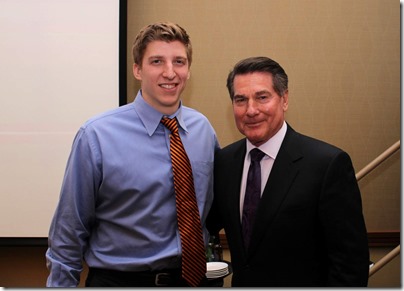 I did get a chance to chat with Mr. Garvey briefly after I took a photo of him with Rob McDonnell.  He seems like a very personable guy.  I told him that as a Cubs fan, he broke my heart  with his homerun against the Cubs in the 1984 postseason.  He assured me that I wasn't the first person that night to tell him that.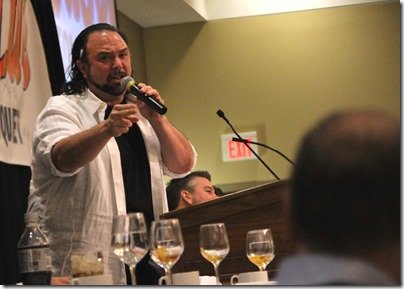 One of most entertaining aspects of the Hot Stove Banquets I've attended is the live auction facilitated by auctioneer Mike Namoff.  This year was no exception.  Some of you may know Namoff as the This Is It Furniture guy with the wacky commercials.  However, he is also a sports memorabilia collector and an accomplished (and quite humorous) auctioneer.  He gets the crowd going and no doubt, it helps bring the bids up all for a good cause. 
More Photos from Hot Stove Banquet 2016!
It seems everyone had a great time last night!  I saw a lot of former players and re-connected with parents and supporters.  Thanks so much to Dan and Diane McDonnell for letting me sit at their table!  Congrats to the Illini Dugout Club and Coach Hartleb for another successful Hot Stove Banquet! 
Less than a month till opening day! 
Related posts