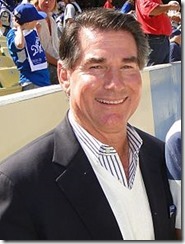 Hot off the presses!  Illinois Baseball and the Illini Dugout Club have announced that former Dodger and Padre All-Star Steve Garvey will be the keynote speaker for the 2016 Illinois Baseball annual Hot Stove Banquet. 
The banquet sponsored by First Federal, will be held on January 23rd at the iHotel at 5pm with a special 4:30pm private reception. 
As usual, the banquet festivities will include a silent auction as well as a chance to meet the players from the team.  For those Illini baseball fans who have not attended a Hot Stove Banquet, I can attest that it is a very fun time.  You can see some photos from last year's event here. 
Individual tickets will cost $50 each.  Entire tables can be reserved with an Illini player as your guest.  For more info on reserving tickets, you can view the reservation form at the Illini Dugout Club website.
Hope to see everyone there!
Related posts