The Fighting Illini has done a couple "Year in Review" articles recently including a Top Ten @IlliniBaseball Tweets 2015 piece and a rather interesting The Year of Baseball in Illinois.  I'll do my part.
Here are ten of my favorite photos from 2015.  They may not be technically the best nor they may not even have significance in Illinois Baseball's 2015 season.  However, when I scroll past them in my gallery, I usually pause for a second.
Here they are in no particular order.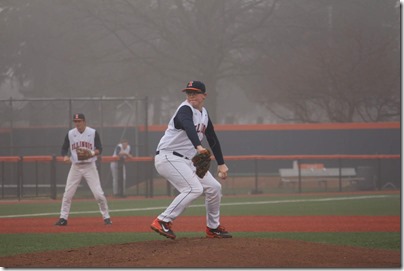 No, this photo isn't blurry.  Friday starter Kevin Duchene opened up the series against Southern Illinois on March 13th in one of the foggiest games I've ever witnessed giving the whole game an eerie feel.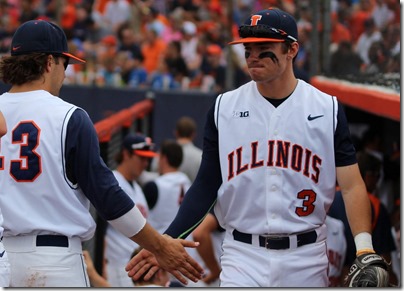 Without even looking it up, I can tell you this photo was taken after the 27 game win streak had started.  I can tell by the look of confidence and even cockiness on Casey Fletcher's face.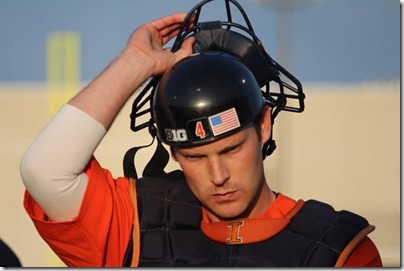 One of my favorites of outgoing senior catcher Kelly Norris-Jones who has a introspective look.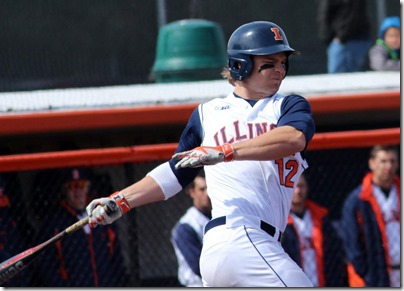 Conference MVP David Kerian had a fantastic season.  There were times when things didn't go his way, though.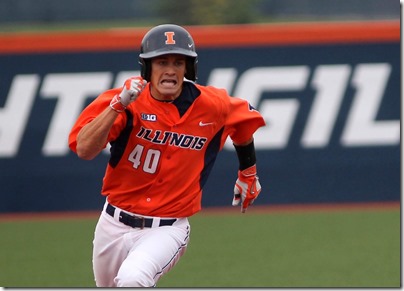 When you're racing around third base trying to score like Will Krug is here, you don't care what kind of face you make.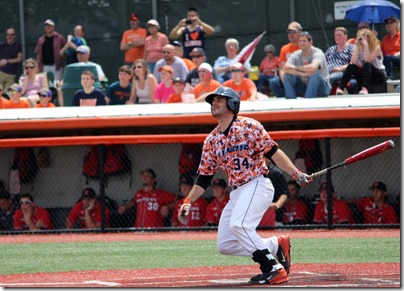 This photo of Jason Goldstein's grand slam in Illinois' epic 28-13 win over Rutgers is one of my favorite homerun shots of the year.  You can just see his smile.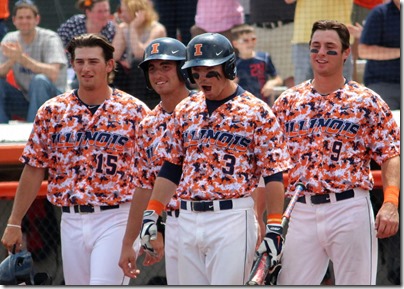 On that same homerun, you can see the intensity of Fletcher as he awaits Goldstein at home plate.  The whole gallery of photos from the Sunday Rutgers game is really worth a look.  We're not going to see a game like that again.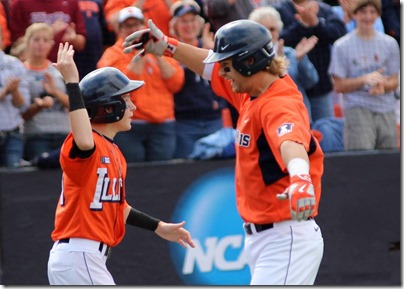 David Kerian is welcomed home by the batboy during the Regionals Wright State game.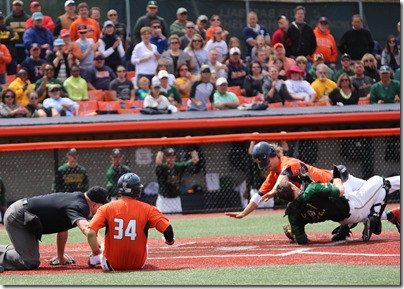 There is so much going on in this photo from the Wright State Regionals game.  Base runner Jason Goldstein and the home plate umpire are recovering from a collision while runner David Kerian and the Wright State catcher are in the midst of colliding themselves.  Kerian ended up scoring and some of you might remember that the Wright State coach and player were ejected and escorted off the field by police for arguing the call.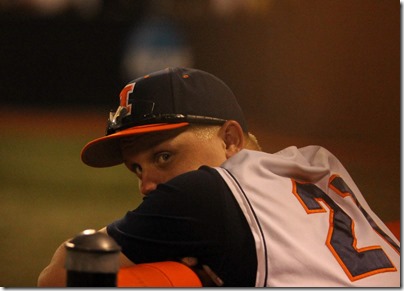 A dejected Kevin Duchene after he was taken out in Game 1 of the Super Regionals against Vanderbilt.
You can see the whole Illinois Baseball Report photo gallery for the 2015 season here.
Related posts