The Orange Team gets bragging rights for a year. 
Hurwitz hit a 9th inning grand slam in Game 2
Congrats to the Orange team who battled back from an 0-1 deficit to win the last two games.  Last night with the help of a Michael Hurwitz grand slam, they defeated the Blue Team 8-7.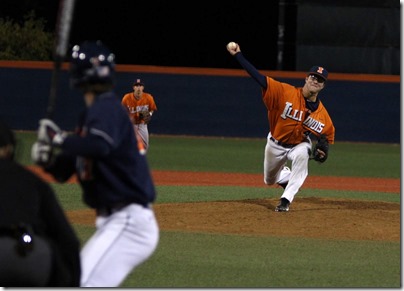 Sefcik was in fine form on Thursday
Then tonight, Quinten Sefcik pitched five innings of 1-hit ball and the Orange Team cruised to a 6-1 win.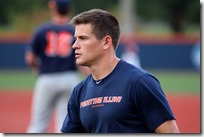 All in all, it was one of the most exciting Orange and Blue World Series I've watched.  I had a great time seeing everyone and was glad to meet some new parents.  Also, it was a happy surprise to see that recent alum Will Krug (left) was helping out the team.  Will's a fantastic guy and there's no one better to help the young team. 
While there are obviously still kinks to be worked out, this will be an exciting team to watch and I am excited for Spring to get here.  Thank you to the players, coaches and staff for putting on a great event this week.  I hope the added features this year will continue and the word gets out so it grows to become a even bigger event. 
Photos of Monday's OBWS Game 1
Photos of Wednesday's OBWS Game 2
Photos of Thursday's OBWS Game 3
On a different note, Illinois Baseball has announced the new schedule for 2016.  This is probably the earliest that we've gotten a finalized schedule like this.  I suppose it has something to do with Illinois' performance in 2015.  Everyone is lining up to play the big guy on the block now.  That not to say that changes won't happen.  Most likely, they will. But it is nice to get a good idea of what Spring 2016 holds for our boys. 
Not only that, the 2016 Illinois baseball roster has now been updated.  It's no surprise that it's a young team.  What is interesting is that there are a fair amount of out-of-state players.  No fewer than eight players hail from outside of the state of Illinois. 
Now, baseball practice is pretty much over.  The Illinois baseball players will focus on personal training and yes, their studies. 
Have a good off-season, guys.  Study hard. 
Related posts