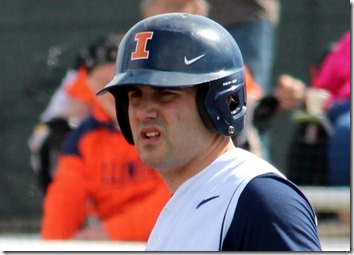 Jason Goldstein hit .323 for the Madison Mallards in the Northwoods League
So far we've gotten a look at the former Illini in the minors this summer.  That included a look at the very special draftee Class of 2015 in their first summer of pro ball.
However, our current Illinois baseball squad have been busy in summer leagues in the past few months.  While we've lost a lot of talent both to graduation and draft in 2015, I am honestly heartened to see what kind of skills our guys are bringing to the table.
Summer leagues are a good chance for college players to keep their baseball skills honed and maybe learn a thing or two along a way.  I have a theory substantiated only anecdotally that those players who do well in summer leagues go on to a great spring season for the Illini.  Maybe the players are coming into their own or perhaps it's that extra boost to their confidence.  Either way, if that holds true, a couple of Illinois players may be due for a great season in 2016.  Just see what a few of them have done this summer!
Illini catcher duo rake in Summer '15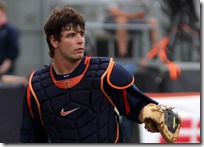 Sophomore catcher Mark Skonieczny has put together a fantastic season for the Lake Erie Monarchs.  Not only did he bat .309 with 24 rbis but he made an appearance in the Great Lakes Summer Collegiate League All-Star Game.  Skony came through with a hit in the GLSCL classic.  Nice going, Skony!
As always, the Northwoods League hosts many of our Illini players for the summer.  Not to be outdone by Skony, catcher Jason Goldstein had a spectacular year for the Madison Mallards.  He batted a tasty .323 in 37 games while driving in 17 runs and scoring 24.
Nielsen, McInerney help Kenosha to Northwoods League Championship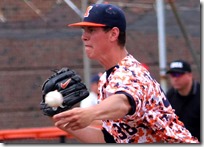 A pitcher who I'm excited about for next year is J.D. Nielsen.  This summer for Kenosha he went 4-1 with five saves and a nice 2.73 ERA.  His bullpen efforts helped bring the Kingfish to the Northwoods League playoffs.  He and Kingfish teammate Pat McInerney (.205, 9 runs scored) helped the Kingfish to a 48-24 record and took them all the way to their first Northwoods League Championship.  Congratulations to J.D. and Pat!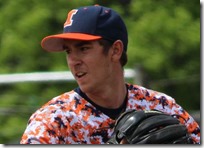 Pitcher Doug Hayes who played for the NWL's Waterloo Bucks had some spurts of excellence.  He won three in a row and his ERA dipped to 2.37 by July 17.  He got roughed up in his last game so forgive his season ERA of 5.01.  He still won four games and saved two for the Bucks.  Doug showed some control too.  He walked only 14 in 46 2/3 innings.  Also in the NWL, infielder Adam Walton batted .278 with five steals and 14 runs scored for the Rochester Honkers.  He came through with a 3 for 4 with two doubles game in early August.
Early in the season, two Illini combined to help Hayes' Bucks win a game against St. Cloud.  Charlie Naso earned the save while Ryan Nagle (yes, the same Ryan Nagle who got signed by the Pirates) hit an rbi double.  In his short time with the Bucks, Nagle hit .275 with 9 rbis.  Naso was efficient on the mound with a 3.66 ERA in 11 appearances.  Waterloo had their share of Illini.
In addition to Naso, Nagle and Hayes, the Bucks also had up and coming Illini Matt James on their roster.  James played a versatile role for the Bucks playing outfield, first base and taking his turn on the mound.  At the plate, he hit .234 with 15 rbis.  On the mound, he saved two games with a low 2.34 ERA.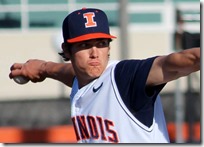 On the same day that Walton went 3 for 4, Cody Sedlock gave us a preview of what we might see from him next spring.  He won the Bourne Braves' first game of the Cape Cod Baseball League playoffs with a pitched a seven-inning gem. For the season, he was 2-1 with a 3.41 ERA and 26 Ks and just 7 walks in 29 innings.  For the record, I'm not the only one who's high on Mr. Sedlock for next year.
We haven't seen much of Quinten Sefcik in Illini games yet but that may change in 2016.  Quinten won three straight games for the Terre Haute Rex in the Prospect League.  He finished the season with some nice numbers.  He went 3-1 with a 3.05 ERA in 10 games and 7 starts.  That helped the Rex to the Prospect League playoffs.
A few more Illini worth talking about
There were a couple more Illini that deserve mention.  Former Illini catcher Chris Robinson came out of retirement to lead Team Canada to a Gold medal in the Pan American Games.
#golden @baseballcanada pic.twitter.com/4BKnURnrjk

— Chris Robinson (@Robbie_30) July 20, 2015
Also, former Illini pitcher (not to mention former volunteer coach) Jason Anderson was named head coach of the Eastern Illinois University baseball team. No doubt, he will be visiting Illinois Field next year in our Panther-Illini matchup.
This is not a comprehensive list, just a few of the highlights from the summer.  Now that the fall semester has started, it won't be long before we can see the boys in action in the Orange and Blue series.
Related posts