If you go to FightingIllini.com today, don't be surprised to see some changes.  The entire website went through an overhaul with a site redesign.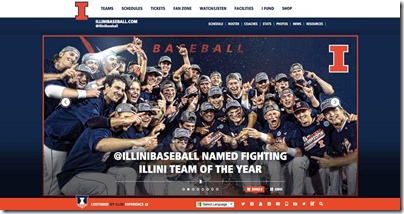 Change is hard, even for an IT person like myself.  Sometimes it  takes some getting used to where information is on a website especially one that you visit on a regular basis.  I'm keeping that in mind as I navigate the new design. 
Overall, I like the new design.  I haven't completely explored the entire Illini baseball site but there are components that I like and some that I can live with.  As an IT person on campus, I knew this design was coming and what style it was going to emulate so I wasn't completely taken by surprise.  The new design emphasizes social media and high level of graphics and media without giving up accessibility standards. 
The new site continues to be mobile friendly, of course.  I'm sure a good percentage of their traffic has been coming from mobile users for a few years now.
Never fear, you can still access the Illinois baseball schedule, players' stats and roster just like you could in the past. 
What are your thoughts?  Love it?  Hate it?
Related posts