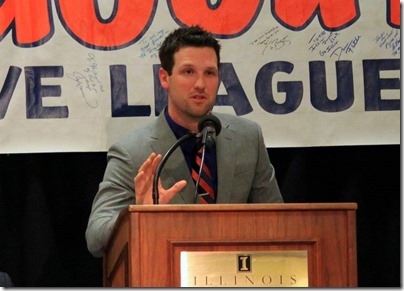 Chris Robinson speaking at the 2014 Hot Stove Banquet
Long time Illini baseball fans will remember Chris Robinson.  He was the star catcher for Illinois from 2003-2005 and was drafted at a then-high 3rd round by the Tigers.  Between minor league stints with the Tigers and Cubs, Robbie would take his turn playing for Team Canada and was consistently a outstanding performer for them. 
Well, he's back at it again. 
Spent far too much time looking for @Robbie_30 photo opportunities to use as jokes when all he did was smile all day. pic.twitter.com/k3kMgZx8U3

— Alexis Brudnicki (@baseballexis) July 7, 2015
Robinson has come out of retirement to play for Team Canada for this year's Pan-Am Games.  As the story goes, Canada's director of Baseball national teams was looking for a replacement catcher and well, Robbie, 31 years old with two children, was convinced to join the team once again. 
Alexis Brudnicki of the Canadian Baseball Network has the full story.  
Good luck to Chris this summer!  For those who want in-depth details on Team Canada's progress and more info on how Robbie is doing, I encourage you to check out Alexis on Twitter @baseballexis.
Related posts