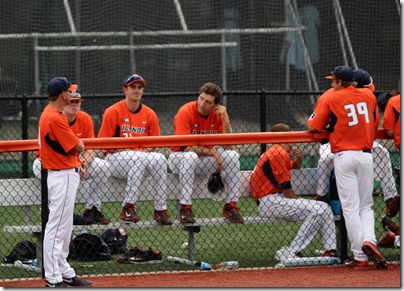 Illini players play the waiting game in the bullpen area
The fans showed up and the players warmed up for Sunday's Super Regional game between Illinois and Vanderbilt.  As the 5:05pm starting time inched closer and the normal pre-game announcements and rituals we usually go through didn't happen, I wondered if something was up.  Sure enough, we heard through the PA that the game was being delayed for 15 minutes… then for a half hour.  Then as many fans were heading for the gates, the ultimate announcement came that Sunday's game was postponed. 
As a result, Game Two of the Illinois-Vanderbilt Super Regional has been postponed till Monday.  The time is yet to be announced 3pm CT.  When Illinois wins and a third game is necessary, it will be played on Tuesday. 
Eventually, a few folks have engaged Illini Senior Associate AD Mike Waddell in a little mini-drama on Twitter regarding the postponement that quite honestly, isn't really worth reading.  The important thing is that both teams agreed to the postponement and more importantly, everyone is safe.  I've been on campus since I left Illinois Field and the storm here has been FIERCE.  By now, the storm has subsided a bit but it is still raining hard. 
Tomorrow's forecast looks a little sunnier.  There should be rain in the morning but that should clear up by the afternoon.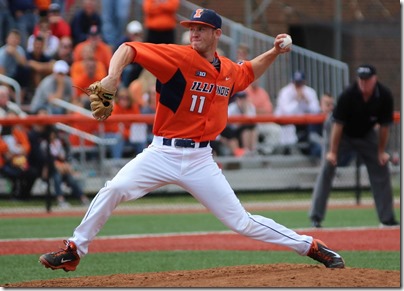 Enough of nasty things like weather and postponements and twitter dramas… on to more important things like Illinois baseball's Tyler Jay.  The Champaign Room wonders if he might get drafted while he is on the mound for the Illini.  Depending on when the game time is, it is certainly a possibility.  Check out TCR's draft wrap up for Jay.  Vanderbilt has three top prospects in Dansby Swanson, Carson Fulmer and Walker Buehler who are all projected to go high in MLB's draft as well.   
Finally, I spoke to Will Krug's mother on his recent hitting surge in the past few weeks.  She told me that "he's having too much fun" and that he "doesn't want the season to end".  I guess there's no better incentive to play well!
Keep an eye on @IllinoisBaseball for Monday's game time. 
Related posts