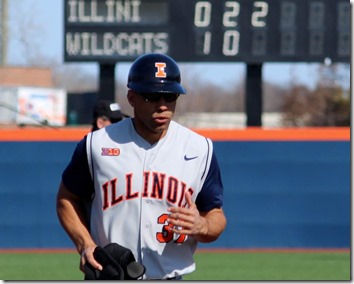 Big news on the coaching front this week.  Coach Spencer Allen after one year as assistant coach with Illinois, has accepted a head coach position at Big Ten rival  Northwestern.  It's a big move up for Coach Allen.  All Illini fans I've talked to say they will miss him but think it is fantastic opportunity for him. 
#B1GCats, please give a warm welcome to the new @NUCatsBaseball head coach – @CoachAllen_37! http://t.co/So3RPTxpaR pic.twitter.com/gZwXzmCO0k

— #B1GCats (@NU_Sports) June 14, 2015
Illinois grew so much in the last year.  There were a lot of factors that went into that and Coach Allen had a lot to do with that.  Illinois' offense thrived under him and Illini players all related to his on-the-field excitement. 
Allen will have big shoes to fill.  Wildcat Coach Paul Stevens retired after 31 years and is the winningest coach in NU history.  No doubt, the Wildcats saw that Allen gained a lot of experience in the Fighting Illini's run for the College World Series.  They'll be getting a quality coach in Spencer Allen. 
Good luck, Spencer!!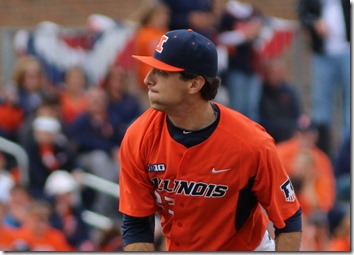 In addition to the record nine draft picks, the 2015 Illinois team can add one more player to the list who will be going to the pros.  John Kravetz was signed as a free agent by the Toronto Blue Jays on the day after the draft was over.
As for those players who were drafted, keep an eye on the MLB Signing and Bonus Tracker to see when our guys get signed.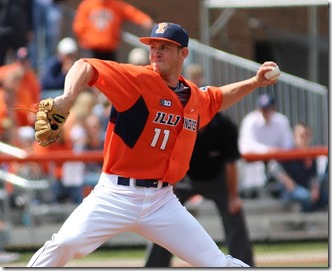 And while Tyler Jay is off to bigger and better things, he still has a couple items to wrap up here.  Such as winning the National College Baseball Hall of Fame's National Pitcher of the Year Award.  Right now, he is a finalist with two others.  One of the other finalists is Carson Fulmer of Vanderbilt who pitched (and won) on Saturday night's game of the Super Regional in Champaign.
Good luck, Tyler!
Related posts