With a 3-0 Regional Championship win under their belt, the #6 national seed Fighting Illini (50-8-1) welcome the Vanderbilt Commodores (45-19) to Illinois Field for the NCAA Super Regional this weekend.  Beginning Saturday night at 7pm CT, the two will play a best of three series to determine who will go on to the College World Series and who will just go home. 
While both teams are quite comparable, they come from very different perspectives.  The Commodores are the reigning champions.  The Illini are the upstart newcomers who have never reached the Super Regionals yet own the highest winning percentage in the country.  Both teams share high profile players and of course, the desire to advance to the Elite Eight who play in the College World Series at Omaha.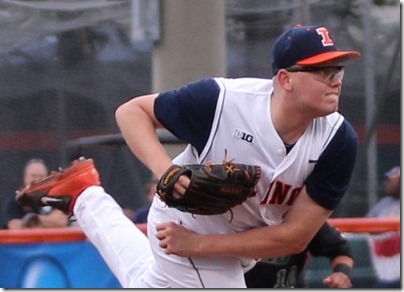 Follow along this weekend at Tournament Central.  The Fighting Illini have posted their Super Regional preview.  Of interest, pitchers Kevin Duchene of Illinois and Carson Fulmer of Vanderbilt have been announced for Saturday's game but the rest are listed as TBA.  Either both coaches are being coy or just keeping their strategies to themselves.  Personally, I don't think Coach Hartleb would deviate from what has been working for him all year but he probably wants to keep everybody guessing. 
Illinois Field

Champaign, Illinois

Sat. June 6

7:00 pm CT

Sun. June 7

8:00 pm CT

Mon. June 8

(if necessary)

TBA

vs

W-L: 45-19 SEC 20-10
My take on Vanderbilt: 
Vanderbilt got this far via the Nashville Regional where they swept the field.  That included a 6-4 win over the Big Ten Indiana Hoosiers. 
Take a look at any mock draft out there (like Baseball America's, for example).  Along with Illinois reliever Tyler Jay, you will most likely find at least three Vanderbilt players in the top 20.  Among them is shortstop Dansby Swanson who is projected to go in the top five picks.  Swanson is batting .348 with 14 homers and 61 rbis. 
Right behind him are two right handers, Carson Fulmer and Walker Buehler who are both ready for this weekend and for draft day on Monday.  Fulmer in particular, has been effective for the Commodores.  He has a 12-2 record with a 1.92 ERA.  He also brings heat with 147 strikeouts in 107 2/3 innings. 
And since excellence isn't bred in a vacuum, it doesn't get a whole lot worse after that.  Philip Pfeifer has struck out 101 in 77+ innings.  The Commodores have six players hitting .300 and three with 13 or more homers. 
In short, reigning champion Vandy is not going to be a walk in the park.  At the same time, their Coach is most likely telling the players the same about Illinois. 
Random Ramblings
As always, there are a couple more Fighting Illini awards to announce…
Tyler Jay was named the District V Player of the Year by the NCWBA.  He was one of ten honored on Friday from each district.  District V encompasses Ohio, Indiana, Illinois, Michigan, Minnesota and Wisconsin. 
Senior Reid Roper was named as a Capital One second team Academic All-American.  The award emphasizes academic as well as athletic excellence.  Roper is only the sixth Illini to receive the award and the first since Jason Anderson in 2000. 
Notes about this weekend
For those wishing to go to the games at Illinois Field, I hope you were able to procure tickets early on Tuesday.  They were sold out within a few hours.  Unless you happen to be lucky to win some, you may be listening to Dave Loane on the radio.  Not that's a bad thing.  
If you're looking for a good unbiased comparison between the Illini and the Commodores, D1Baseball.com has one. 
Finally, usually by this time Illinois players are done with their season and thinking about their summer assignments.  Those who are draft eligible are looking towards the MLB First-Year Player Draft.  Not this year.  While the draft is happening and I'm sure certain players are definitely keeping an eye on it, they have business to finish at the Super Regional. 
This year's MLB Draft will commence on Monday, June 8th potentially while Illinois is still playing in the Super Regional.  MLB's Draft Central is the best place to track the draft.  This year may have a bumper crop of Illinois draftees and most certainly have the highest drafted pick in Tyler Jay. 
See you at the ballpark!!
Related posts