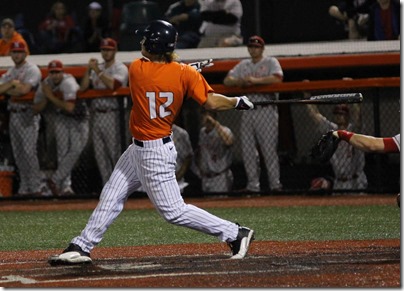 Kerian hits homerun #13 on Friday
David Kerian has gone and done it again.  He's just won his second Big Ten Player of the Week honor of the season.  Not only that, it's the fourth straight POW award for the Illini and the the fifth one this season for the team.  With the four Big Ten Pitcher of the Week awards this year, Illinois has an amazing total of nine honors in the 2015 team. 
It shouldn't be too surprising.  Winning 26 games takes some hitters with talent…
April 7 – Jason Goldstein
April 27 – Casey Fletcher
May 4 – David Kerian
May 12 – Jason Goldstein
May 18 – David Kerian
no to mention their arms too…
Feb. 16 – Rob McDonnell
March 9 – Tyler Jay
March 23 – Kevin Duchene
April 7 – Kevin Duchene
It was par for the course for David Kerian who is making a strong case for Big Ten Player of the Year.  He now leads the Big Ten in hitting (.383), homeruns (13) and slugging (.661).  This past weekend, he helped Illinois defeat Nebraska two straight games.  He hit his latest homerun on Friday while going 3 for 4 extending his hitting streak to 17 games. 
The 10-9 win over the Huskers also extended Illinois' winning streak to the 26 games, the longest in the nation. 
Congrats David!
Related posts