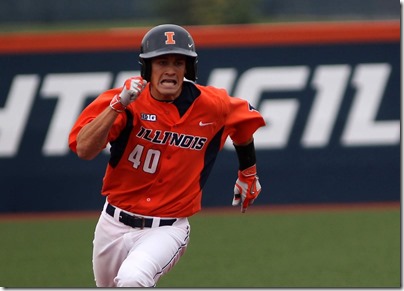 Will Krug rounds third to score the first run in today's win
In front of a rocking crowd of over 3000 at Illinois Field, top seed Illinois defeated #2 seed Notre Dame 3-0 behind a strong effort by starter Drasen Johnson who pitched a complete game shutout.  Illinois rallied for all three runs in the fifth inning. 
With the win, Illinois advances to the NCAA Champaign Regional Championship game played Monday at 1:05pm.  They will face the winner of tonight's elimination matchup between Notre Dame and Wright State. 
Not only that but today's victory gives Illinois a 49-8-1 record.  That ties the school record for the most wins in one season.  The 1982 baseball team also had 49 victories.  That's extra incentive for winning as if Illinois needed any. 
| | | |
| --- | --- | --- |
| Game #58 / May 31, 2015 | | |
| | vs | |
| 3 | | 0 |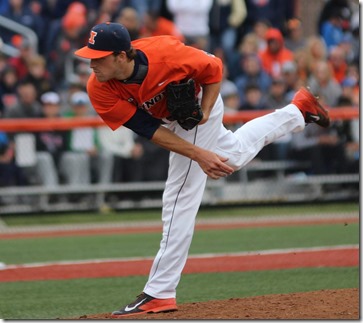 Drasen Johnson was lights out against the Notre Dame Fighting Irish
To be honest, Drasen Johnson didn't get off to the best start today.  In the first, he walked a batter and hit another.  It didn't help that another got on via an error. 
However, Drasen got through it unscathed.  He allowed two hits in the second but after that, he seemed to just get stronger as the game progressed.  In fact, he only allowed three more hits for the rest of the game.  In typical Drasen Johnson fashion, he was efficient with his pitches and only walked one batter.  In all a fantastic performance. 
Drasen Johnson's line:  9 IP, 5 H, 0 R, 1 BB, 6 K
Johnson improves to 10-3 for the year and his ERA is hovering just over the 2.00 mark at 2.01.  Today's shutout was his first ever and his fifth career complete game. 
The Illini offense gave Johnson just what he needed in the fifth inning.  Will Krug started things off with a one-out base hit.  Ryne Roper hit the second pitch for s double scoring the speedy Krug.  Adam Walton followed that up with an rbi single driving home Roper.  Ryan Nagle's base hit made it first and third then Reid Roper's sacrifice fly scored Walton. 
That would be all the runs either team would score and Illinois came home winners 3-0. 
Random Ramblings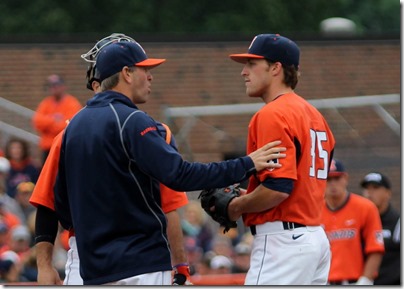 Drew Dickinson, whatever you said to Drasen on the mound in the first inning, those were truly words of wisdom.  More photos from today's game are here.  I included some from pre-game activities too. 
As I write this, I see that Notre Dame was blanked by Wright State 4-0 in tonight's elimination game.  Wow, tough day for the Irish.  I had said to a few people that the Wright State Raiders were going to be a opponent to contend with.  So far, they're hanging tough.  Seeing that's the case, Illinois will be playing the Raiders tomorrow at 1pm at Illinois Field. 
So far, Illinois has two straight complete games in the Champaign Regional.  The elephant in the room is Big Ten Pitcher of the Year Tyler Jay who is always ready and willing to come in.  Coach Hartleb isn't afraid to use him for four or five innings if need be either.  I'm willing to bet we'll see Jay at some point tomorrow's final game.
Can I say that I'm having the time of my life?  The atmosphere at Illinois Field is electric!  At this Regional event, I've noticed that there is less of a home field "feel" compared to regular season games.  I feel that's fair, this is an NCAA event.  Having said that, I've noticed that the huge crowd is taking really taking initiative and showing their Illini Pride.  I'll bet the players notice as well too.
It's been great to see some former players this weekend who want to share in this team's success.  So far, I've run into Pete Cappetta, Bryan Roberts, Mike Sterk, Dom Altobelli and Casey McMurray. 
 Great job, Illini!!
Related posts