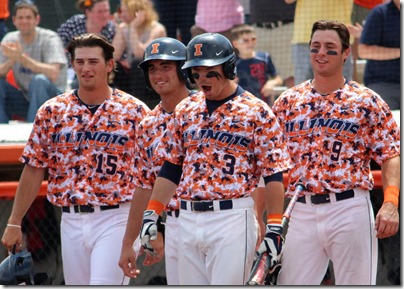 The long wait is over.  After weeks of projections and previews, the NCAA has officially announced that Big Ten Champions Illinois will play host in the Champaign Regional.  On May 29th-June 1, the Illini will host a Regional at Illinois Field.
Directly from the Twitter account of NCAA Baseball:
Congratulations Illinois! Champaign, Illinois will host a 2015 Baseball Regional. #RoadToOmaha pic.twitter.com/DYfQq09rpQ

— NCAA Baseball (@NCAACWS) May 25, 2015
This is Illinois' 11th NCAA Regional appearance but the very first time that they will actually host a Regional.
The Champaign Regional is one of sixteen national Regionals around the country hosted by the best college baseball teams in the nation in 2015.   Each Regional will field four teams and will conduct a double elimination tournament. 
According to NCAA.com, the cities and corresponding teams hosting a Regional are:
Baton Rouge, Louisiana – LSU (48-10)
Champaign, Illinois – Illinois (47-8-1)
College Station, Texas – Texas A&M (45-11)
Coral Gables, Florida – Miami (Fla.) (44-14)
Dallas, Texas – Dallas Baptist (43-13)
Fort Worth, Texas – TCU (43-11)
Fullerton, California – Cal State Fullerton (34-22)
Gainesville, Florida – Florida (*43-16)
Houston, Texas – Houston (42-18)
Lake Elsinore, California – UC Santa Barbara (40-15-1)
Los Angeles, California – UCLA (42-14)
Louisville, Kentucky – Louisville (43-16)
Nashville, Tennessee – Vanderbilt (*42-18)
Springfield, Missouri – Missouri State (45-10)
Stillwater, Oklahoma – Oklahoma State (37-18)
Tallahassee, Florida – Florida State (41-19)
A side note:  Congrats to former Illini associate head coach Eric Snider who is now at Louisville.  His Cardinals are also hosting a regional.
Those of you who are interested in attending the Champaign Regional should head on over to Fighting Illini's NCAA Regional page.  There's all kinds of information there including a link to order tickets. 
Who will the Illini face at the Champaign Regional?  That is still up in the air but we will find out Monday morning at 11am.  The entire 64-team field will announced on ESPNU by NCAA Baseball  and will be spread via Twitter or Facebook as well. 
Congratulations to the Illinois Baseball program!!
Related posts