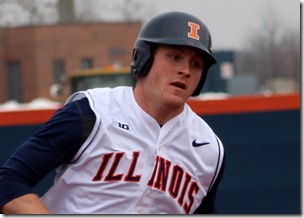 Pat McInerney drove in the winning run in Illinois' first game of the Big Ten Tournament
Top seed Illinois hit the Big Ten Tournament and won like they've won all year.  Pitching well and never giving up.  In the feature game in the opening day of the tournament, Illinois came back from two runs down and defeated the #8 seed Nebraska Cornhuskers 3-2 thanks to a game winning hit by Pat McInerney. 
Reliever Nick Blackburn (3-0) earned the win and Tyler Jay vindicated his Big Ten Pitcher of the Year award by notching his 13th save, tying the school record. 
The Illinois baseball team (46-6-1) is now on a 27-game winning streak best in the NCAA for the 2015 season. 
| | | |
| --- | --- | --- |
| Game #53 / May 20, 2015 | | |
| | vs | |
| 3 | | 2 |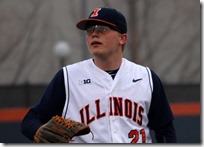 Kevin Duchene and Nebraska's Chance Sinclair were locked in a pitchers' duel for quite a while in tonight's game.  For five full innings, no team scored.  Once the sixth inning hit though, it seemed like both offenses got the okay to start.  Nebraska plated two off Duchene in the top of the inning on back-to-back doubles plus a base hit. 
Key moment:  With runners on second and third and one out in the fifth inning, Duchene forced a fly out and struck out the last batter.  He was demonstrably excited after that third out. 
Illinois didn't wait long to tie the game.  Ryne Roper, Ryan Nagle and Reid Roper all singled to score a run and Jason Goldstein added one more with a sacrifice fly. 
Blackburn came in to pitch in the seventh and got Illinois out of a little jam.  He then pitched a scoreless eighth inning. Then it was the Illini offense time to finish the job.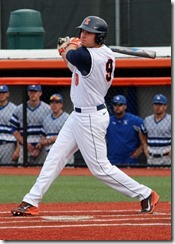 In the Illini eighth inning, it was Ryan Nagle (right) again who singled followed by a Reid Roper walk.  Jason Goldstein bunted them over to second and third.  Casey Fletcher was intentionally walked which in hindsight was probably still a wise move.  However, Pat McInerney wanted to win and drove home Nagle on a single to right.  That proved to be the winning run. 
With a one-run lead, Coach Hartleb wasn't taking any chances.  He brought in Tyler Jay.  Wise move.  Jay got the Huskers out 1-2-3 for the save. 
Random Ramblings
According to the Big Ten Network, the Illini win today breaks yet another record….
"A 3-2 victory over Nebraska in the opening round of the Big Ten Baseball Tournament gave the Illini their 27th straight win this season, which marks the longest winning streak by a Big Ten baseball team in conference history. "
It's amazing what this team has accomplished this year! 
Other scores today at the Big Ten Tournament:
Game 1: No. 3 Michigan 4, No. 6 Indiana 1
Game 2: No. 2 Iowa 3, No. 7 Ohio State 2
Here is the updated tournament bracket after today's games.  Illinois will play a late 9pm game Thursday against the winner of the Maryland-Michigan State game happening tonight (Michigan State is up 1-0 in the 3rd inning as I write this). 
Check out more info at the Big Ten Baseball Tournament Central. 
Keep it up, Illini!!
Related posts