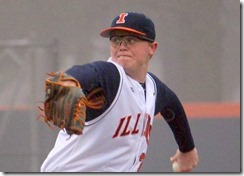 Illinois baseball is just not content for settling for an undefeated April.  Not stopping there, #6 Illinois baseball easily defeated the #23 Ohio State Buckeyes in the first of their three-game set.  Behind the formidable pitching of starter Kevin Duchene, Illinois won 8-1 for their 19th straight victory.
The Illini came through with some clutch hitting too.  Their first four runs were scored with two outs.  Casey Fletcher drove home what would be the winning run in the first inning with a two-out, two-run single.  From there, the Illini kept hitting, complimenting Duchene's performance.  Each Illini starter got a hit for a total of 13 for the team.
The victory Friday puts distance between the Illini (14-1) and third place Ohio State (12-4) in the Big Ten standings.
Tonight, Kevin Duchene was classic Duchene.  In eight innings, he allowed just three hits and just one while striking out seven and walking just one.  From all reports, he controlled the game from inning one and didn't relinquish it till he was relieved in the ninth.  Doug Hayes took over in the ninth and pitched a scoreless frame to finish off the Buckeyes.
Offensively, Ryan Nagle, Adam Walton, David Kerian and Will Krug all contributed two hits.  Nagle drove home three runs for the game and Casey Fletcher had 2 rbis.  Walton had a run-scoring triple in the second, as well.
Random Ramblings
What we saw out there was your typical 2015 Illinois team on Friday night.  The bigger question is, "Was that really what to expect from the Buckeyes?"  I don't think so.  I'm expecting a bigger battle in the next two games.
By the way, Duchene upped his career record to amazing 21-3 and probably a more amazing 9-0 conference career record after Friday night.
Next up
Illinois will hope to make it an even 20 in a row on Saturday.  Drasen Johnson will be on the mound and game time will be at 2:05pm at Bill Davis Stadium.
Way to go, Illini!
Related posts