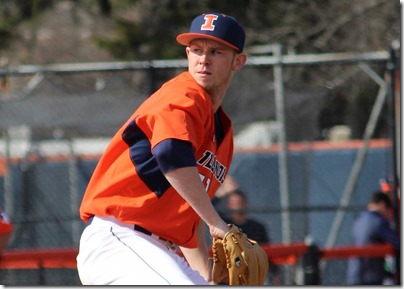 If you're in a pinch, you can always call Tyler Jay
In a roller coaster game that featured several lead changes, Illinois eked out a key win against Ohio State on Saturday 6-5.  The win is Illinois' 20th in row and gives at least a series win going into Sunday's game against the Buckeyes. 
Starter Drasen Johnson got just enough support to earn his seventh win for the year.  When things got a bit rough, Tyler Jay was called in and pitched 2 1/3 innings for his ninth save. 
The win gives first place Illinois a 15-1 record in the Big Ten and places Coach Hartleb third on the Illinois all time list for wins with 315 passing George Huff. 
| | | |
| --- | --- | --- |
| Game #46 / May 2, 2015 |   |   |
| | vs | |
| 6 |   | 5 |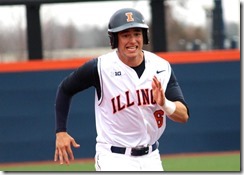 Down 2-1, it was Adam Walton who drove home two in the fifth inning to put Illinois up for the first time.  His 2-run single made the score 3-2 Illinois.  After OSU came back with two in bottom of the inning, it wasn't long before the Orange and Blue came back.  In the sixth, Casey Fletcher scored on a Will Krug single then Ryne Roper came through with another scoring David Kerian.  Illinois was then up 6-4. 
After OSU scored a run in the seventh, Tyler Jay was brought on.  He gave up just one hit and no walks for the balance of the game. 
Starter Drasen Johnson pitched a solid six innings for win number seven.  He spread out seven hits for four runs, three earned. 
Random Ramblings
It was batters #6 through #1 who came through on Saturday.  They drove in AND scored five of the six runs on Saturday.
The Fighting Illini came up with this new graphic with the stats of the Illini during their current 20-game winning streak. 
Speaking of cool graphics, they're also working on a nifty one that has the workings of a great poster. 
Longest active streak in the nation! #ILLINI #20straight pic.twitter.com/XRSXzaBEfs

— WWWWWWWWWWWWWWWWWWWW (@IlliniBaseball) May 2, 2015
Next up
Illinois will look to sweep #23 Ohio State on Sunday.  Game time is 12:05pm CT and John Kravetz is on the bump. 
Way to go, Illini!
Related posts