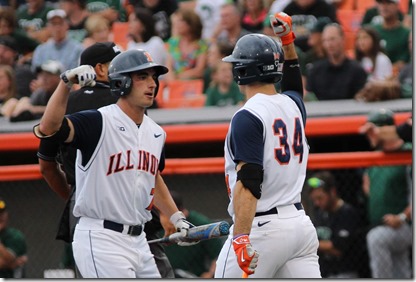 Reid Roper gets congrats after his first inning homer
Friday night, top seed Illinois baseball got off to a good start in the NCAA Champaign Regional.  Behind a solid start of Kevin Duchene (11-1) and homers by David Kerian and Reid Roper, they defeated fourth seed Ohio University 10-3. 
With the win, Illinois will advance in the tournament and face Notre Dame on Saturday at 7pm.  The Fighting Irish defeated the Wright State Raiders 13-7 earlier in the day.  The Ohio Bobcats and Raiders will face off in an elimination game at noon. 
| | | |
| --- | --- | --- |
| Game #57 / May 30, 2015 | | |
| | vs | |
| 10 | | 3 |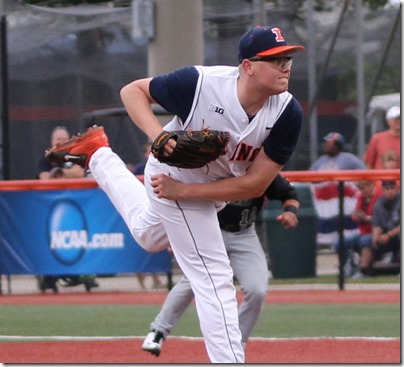 Kevin Duchene improves to 11-1 after his Champaign Regional win
Technically speaking, today's Illini win was a comeback.  Ohio led 2-1 after one and a half innings but Illinois' barrage of five runs pretty much established the dominance that would continue for the rest of the game.  David Kerian's three run homerun was key to the big rally. 
Kevin Duchene pitched a solid complete game giving up just seven hits and three runs all earned.  That's a good thing though as Duchene enjoyed the support of good defense to go along with the plentiful offense.  His win gives him an 11-1 record for the season. 
Offensive performers in today's game:  David Kerian 1 for 2, HR, 3 rbis, 3 runs, Reid Roper 2 for 3, HR,  Will Krug 2 for 3, 3B, 2 runs, Ryne Roper 2 for 3, 2 rbis
Random Ramblings
Photos from tonight's game here.  I also took a few photos at Game 1 between the Wright State and Notre Dame.
Illinois is one victory away from the school record of 49 set in 1982.  No time like this weekend to set a new record!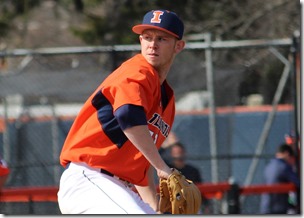 Congratulations to Tyler Jay (above), Kevin Duchene and David Kerian.  Jay was named first team All-American and Duchene and Kerian were named second-team All-American.  This is the first time Illinois has had three All-Americans.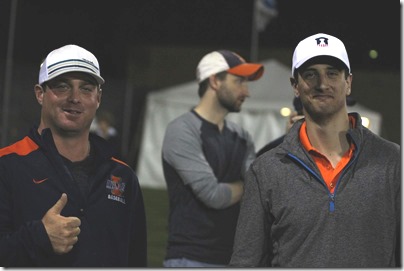 Former Illini Casey McMurray and Pete Cappetta were all thumbs up about the success of this year's baseball team
The Big Ten was a perfect 5-0 today.  Iowa, Michigan, Indiana and Maryland were winners in their respective Regionals.  As always, get more info from 2015 Baseball Tournament Central.  
Great job, Illini!!
Related posts