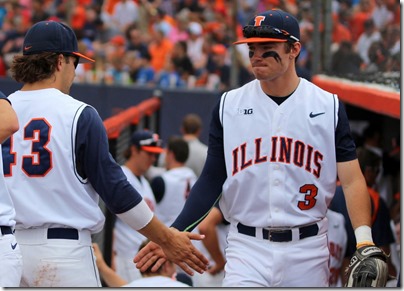 In preparation of the Champaign Regional, the interns at the UI Athletics program have been working overtime to put out this great press release.  It is quite comprehensive.  Reading through it, I am still amazed at what the Illini players have accomplished this year.
What do I need to know about this weekend?
A lot of your questions can be answered at the Fighting Illini 2015 Baseball Championship site or Champaign Regional Tournament Central.  Those new to Illinois and coming from out of town might want check out the tour of Illinois Field.
Here's another taste of the changes to Illinois Field…
Orange seats & blue dugouts freshly painted at Illinois Field! #Illini #RoadToOmaha pic.twitter.com/kKLqQ4y07n

— #ILLINI #RoadToOmaha (@IlliniBaseball) May 26, 2015
If you want tickets for Friday night's game against the Ohio Bobcats, you may be too late.  Rumor has it that advance tickets have been sold out.  However, Associate Athletic Director Jason Heggemeyer does say that if available, there will be a small amount of standing room only tickets will go on sale at the Illinois Field ticket office. 
Speaking of standing, those of us who love standing by the fences during the game will need to find a seat.  Because of the extended seating, there will be no standing along the fences.  It's only fair that everyone can see the game.
#ChampaignRegional FYI to Fans With extra seating added down the lines, standing will not be allowed along the fence. pic.twitter.com/li2xyqEkxe

— #ILLINI #RoadToOmaha (@IlliniBaseball) May 28, 2015
Parking:  Fans can park in the grass lot at Illinois Field as usual (unless we hear different because god forbid, the weather prevents it).  This weekend, there will be attendants directing drivers where to park.
Weather:  The weather forecast doesn't look perfect but compared to a couple days ago it's looking a whole lot better.  There may be scattered thunderstorms but if we're lucky, they will be scattered around the games.
Finally, let's do our best to represent our team well as fans.  Our Illini players do us proud by showing good sportsmanship behavior.  Let's do the same in the stands!
Related posts