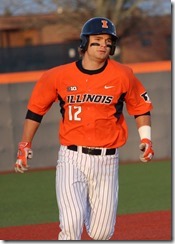 Remember when Illinois when lost games?  No, I can't either.  It's a faint memory. 
Today in Columbus, #6 Illinois (40-6-1, 16-1 Big Ten) extended their winning streak to a lucky 21 by completing a sweep against the #23 Ohio State Buckeyes (31-13, 12-6 Big Ten).  Illinois came back from a 2-0 deficit to win 6-2. 
Rob McDonnell got the win in relief, his seventh of the year.  David Kerian (left) continues to contribute to the Illinois cause.  His 3rd inning solo homerun put Illinois on the board and he gave them the lead for good in the 4th inning with a two-run base hit. 
With a 16-1 conference record, first place Illinois has now five Big Ten sweeps in five straight weekends in a row.  Not surprisingly, they are beginning to pull away from the pack.  They are 1 1/2 games up on second place Iowa (15-3) in the conference standings and 4 1/2 ahead Ohio State (12-6) who is clinging on to third place despite this weekend's sweep. 
| | | |
| --- | --- | --- |
| Game #47 / May 3, 2015 | | |
| | vs | |
| 6 | | 2 |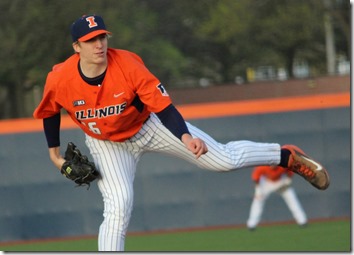 Seven wins for Rob McDonnell after his appearance on Sunday
McDonnell got the win but give John Kravetz some credit.  He kept the game close for the four innings.  While he gave up two runs in the first, he kept the Buckeyes scoreless for the balance of his appearance. 
Illinois added to their lead in the sixth when Will Krug drove home a run on a squeeze.  Adam Walton then drove home two with a base hit. 
While the Illini were doing their bat magic, McDonnell who came in the fifth inning, was mowing down the Buckeyes.  It wasn't until the eighth when they finally got a hit off Big Bob.  McDonnell struck out four batters in four scoreless innings for the win.  And just to give the scouts and pundits something to drool over, Tyler Jay was brought in to pitch the ninth.  Oh sure, you bet he pitched a 1-2-3 inning.
Big boppers today:  David Kerian (3 for 4, 3 rbis, HR), Adam Walton (2 for 5, 2 rbis), Casey Fletcher (2 for 4, 2 runs) and Reid Roper (2 for 5). 
Random Ramblings
David Kerian now leads the Big Ten in homeruns (11), slugging (.621) and is third in hitting (.366).  With Illinois' success, is he making his case for Big Ten Player of the Year?  The next two series will be telling. 
While I'm bragging on Illini in among the Big Ten leaders, take a look a the pitchers.  We all know that Tyler Jay (0.73) and Kevin Duchene (0.78) are 1-2 in ERA (they are actually #2 and #3 in the entire country).  But Illinois currently also has four of the top five in ERA including McDonnell (1.93) and Drasen Johnson (2.28).  Throw in Kravetz (3.02) and you can make it five of the top 14. 
Finally, you know that Illinois is doing well when their players are consistently headlining the pollsters feature articles. 
Next up
Now that their successful seven game road trip is over, Illinois is coming home.  They will finish out the regular season with two Big Ten series at Illinois Field.  This weekend will feature Rutgers.  Game time is 6pm,
Welcome home, guys!
Related posts