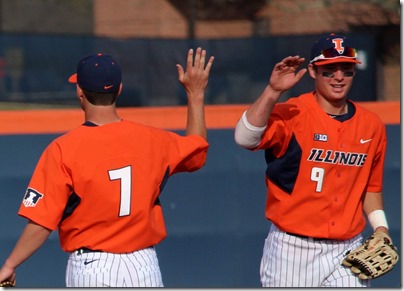 The Illinois baseball team is coming back to Illinois Field after a seven game road trip.  Since they left, they risen in the polls some.  This weekend, the now #3 Illini (40-6-1, Big Ten 16-1) will host the Rutgers Scarlet Knights for a three-game set. 
It's not the first time the Illini baseball team has played Rutgers; the two teams played each other way back in 1989.  However, this will be the first matchup of the two as conference rivals.  First place Illinois hopes to not only extend their 21-game winning streak and best winning percentage in NCAA baseball (.941) but put some distance themselves and second place Iowa (15-3).
There is an outside shot that Illinois could nail down the Big Ten Championship this weekend.  Their magic number is now 5.  With a sweep of Rutgers and two losses by Iowa would give the Orange and Blue the B1G Title.  So for this weekend, we're all Minnesota fans.  Spread the word. 
The Fighting Illini weekend preview is up and there's no change to the game plan.  Scheduled starters for the Illini:
Friday  Kevin Duchene: 8-1, 0.78 ERA
Saturday  Drasen Johnson: 7-2, 2.28 ERA
Sunday  John Kravetz: 4-0, 3.02 ERA
Illinois Field

Champaign, Illinois

Fri. May 8

6:00 pm CT

Sat. May 9

3:00 pm CT

Sun. May 10

11:00 pm CT

vs

W-L: 17-31 Big Ten 5-13
My take on Rutgers: 
Unlike the other Big Ten newcomer Maryland (33-16, Big Ten 11-7), the Rutgers Scarlet Knights aren't having quite as a successful year in their initial campaign.  Through this week, they are 17-31 and have a 5-13 record in the Big Ten.  
Indeed while the Terps have even found themselves ranked, the Knights are scrambling to win.  The 2015 season has been streaky for Rutgers.  They have two four-game win streaks interspersed in between even more losing streaks. 
Rutgers have just won their last game against St. Peter's which broke a five-game losing streak.  That streak was partially due to second division Penn State who swept the Knights last weekend.  Not only did they win on Tuesday but according to their weekend preview, they preserved a win by completing a earlier suspended game this week as well. 
Tom Marcinczyk is the man with the big stick on Rutgers.  He leads or is tied for the team lead in practically every meaningful offensive category including hitting, homeruns, runs and rbis.
Quick take:  I could say that Rutgers should not be an be big problem for the #3 team in the country but I don't want to jinx anyone.    Y'all know how baseball works.
Random Ramblings
Big Ten baseball guru Chris Webb of B1G Baseball was in attendance during last weekend's sweep against Ohio State in Columbus.  I asked him to describe the Illinois baseball team in just five words. 
How did he respond?
"Polished, professional, intense, fun and complete"
It's nice when a fan recognizes your accomplishments… even better when those outside your immediate circle start lavishing these kinds of words.  For those who follow college baseball, you probably know Chris but if you don't, follow him @ChrisMWebb on Twitter.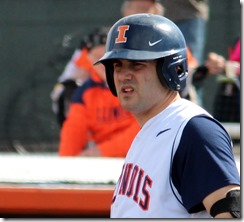 Award kudos:  it has been announced this week that Illini catcher Jason Goldstein has been put on the official watch list for the 2015 Johnny Bench Award.  The Bench award is given to the top catcher in college baseball and the committee will decide on a final winner during the College World Series week. 
In addition to handling one of the best pitching staffs in the country, Goldstein is hitting .281 with six homers with 32 rbis.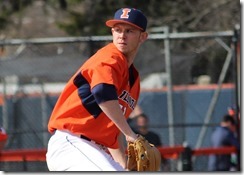 More award kudos:  Speaking of watch lists, the list for the Golden Spikes Award is narrowing and Tyler Jay's name still remains on it.  Jay remains one of 30 players on the Golden Spikes award candidates. 
Final voting for the award will commence on June 12th. 
30-Player Golden Spikes Award Watch List
Tyler Jay has a minuscule 0.73 ERA with a 5-1 record with nine saves.  He has struck out 54 and only walked four in 49 1/3 innings. 
See you at the ballpark!!
Related posts