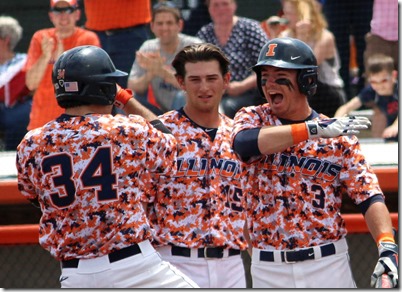 Casey Fletcher welcomes Jason Goldstein at the plate after his grand slam
I've seen a lot of college ball games but I don't think I have seen anything like what I've witnessed today.  It was an amazing combination of a comeback/slugfest/blowout.  For those who left early, I am truly sorry. 
In a record-setting day, #3 Illinois (43-6-1, Big Ten 19-1) obliterated Rutgers (17-34-1, Big Ten 5-16) in Sunday's game in a comeback fashion.  The Illini rallied like they had a mission from a 9-5 deficit to defeat the Scarlet Knights 28-13.  Reid Roper scored a school record six runs while driving in six and hitting two homers including one grand slam.  Jason Goldstein continued his hot hitting by going 5 for 5 with game-tying grand slam homerun of his own. 
The win for the Illini gives them a 24-game winning streak which ties them with Texas A&M for the highest this season.  Most importantly, Illinois' magic number to win the Big Ten Championship is down to TWO! 
| | | |
| --- | --- | --- |
| Game #50 / May 10, 2015 |   |   |
| | vs | |
| 28 |   | 13 |
Let's look at the numbers for this game because they are phenomenal…
Both team scored 41 runs on 39 hits
Eleven homeruns were hit in the game (Rutgers actually had six of them)
Illinois scored in every inning but one and scored 11 in the eighth
Three Rutgers pitchers gave up five runs each.  One gave up six.  One more gave up four.
Thirteen pitchers were used by both teams
Twelve Illini got a hit and and FIVE got more than three hits
One thing is for sure, the Illinois' team ERA is going up after today.  Unfortunately, that is especially true for Illinois starter John Kravetz who didn't last two innings and gave up six runs.  The Rutgers team had something to prove.  After one and half innings, Rutgers was ahead 6-2 and by the fifth, Illinois was down 9-5.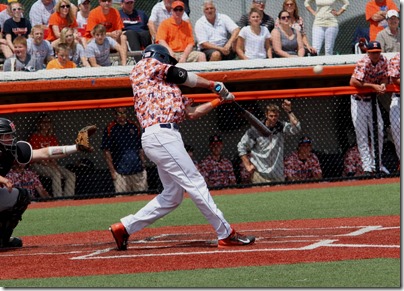 Ryan Nagle launches one in the second inning
But Illinois kept plugging away.  A two-run double in the first by Casey Fletcher kept it close and a Ryan Nagle three-run homer in the second helped even more.  But it was when Jason Goldstein tied it 9-9 in the fourth inning with a grand slam we realized we had a game on our hands.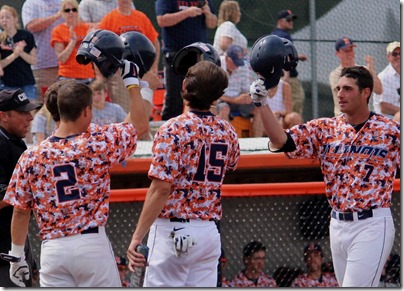 However, I don't think anyone was really prepared for what happened in the eighth inning.  Fourteen batters came to the plate and eleven of them scored.  It culminated  in a Reid Roper grand slam homer.  Even our new scoreboard couldn't accommodate the double digit number.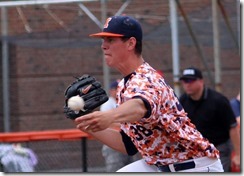 Though our pitching had most certainly seen better days, J.D. Nielsen (right) is the deserving winner of this game.  He came in the game in the sixth and pitched through the seventh and didn't allow a hit or a run.  Looking at this boxscore, that's an amazing feat.  J.D. is now 2-1 for the season. 
Big performances today:  Reid Roper 4 for 6, 2 HR, grand slam, 6 runs, 6 rbis, Jason Goldstein 5 for 5, 3 runs, 4 rbis, grand slam HR, Ryan Nagle 4 for 6, 4 runs, 3 rbis, HR, David Kerian 3 for 6, HR, 3 runs, 3 rbis, Pat McInerney 2 for 6, 4 rbis, Will Krug 3 for 5, 2 runs, 2 rbis…the list goes on. 
Random Ramblings
My photos from Sunday's game are here.`  There are three pages of them because well, 28 runs means lots fun things to take photos of.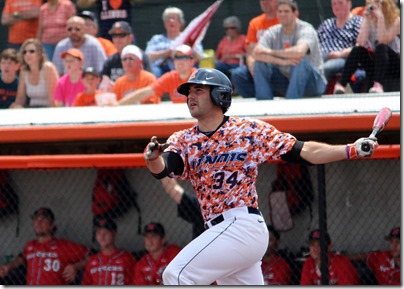 Story time… I had been holding on to the baseball that Jason Goldstein had hit for his first career college homerun since last year.  I collected it on my way out of the park with the intention of giving it to Jason or his family.  Yesterday, I finally had the chance to give it to his mom Terri. 
During the game today, Terri told me that just before her son's game-tying grand slam she pulled the ball out and held in her hand for good luck.  Well, Terri, just make sure you pack that good luck charm before you leave for the Big Ten Tournament!!
I haven't seen the stats around the conference but I got believe that one of our guys is going to be chosen for B1G Player of the Week.  Right now, I'm having a hard time choosing which one.  And you know what?  That's ok with me. 
Next up
Illinois has one more Big Ten series left with Nebraska before the Big Ten Tournament.  Make note:  The schedule is moved up one day.  The games will be played on Thursday-Friday-Saturday in order to prepare for the Tournament. 
Thursday's game against the Huskers is at 6pm.
Nice work, Illini!!
Related posts