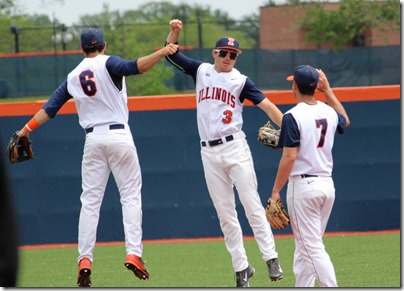 #3 Illinois (42-6-1, Big Ten 18-1) took two games from the Rutgers Scarlet Knights (17-33-1, Big Ten 5-15) in a Saturday doubleheader.  The Illini won the first game 5-4 behind the strong pitching of Kevin Duchene (9-1) and 13 hits by the offense.  Tyler Jay garnered his 10th save of the season. 
Game Two starter Drasen Johnson (8-2) gave up only one run in his outing while Jason Goldstein pounded a homer to add two more rbis to his two-game total of five.  J.D. Nielsen earned his second save while Illinois won 6-2. 
The doubleheader sweep now gives Illinois a 23-game winning streak going into the Sunday game.against Rutgers.  Illinois' 42 wins is now sixth best on the program's all-time list.  The Illini's magic number to clinch the Big Ten championship has now been reduced to just 3. 
| | | |
| --- | --- | --- |
| Game #48 / May 9, 2015 | | |
| | vs | |
| 5 | | 4 |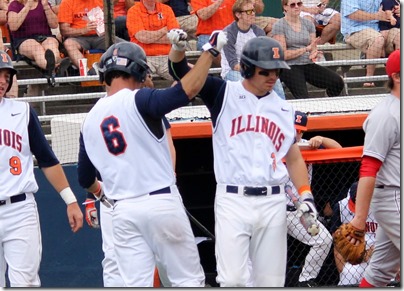 Things were pretty tight for a while in Game 1.  After four and half innings, it was still 1-1 and fans were wondering when the game was going to break open.  In the bottom of the fifth, Rutgers sort of fell apart mentally.  A series of miscommunications on the field, mental mistakes and just plain fundamental baseball mistakes helped the Illini to a rally.  Jason Goldstein took advantage and drove in two with a base hit.  David Kerian followed up with an rbi hit of his own.  In all, four runs scored making the score 5-1.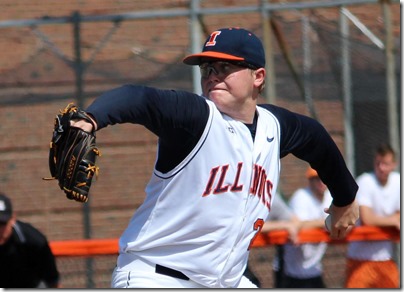 Meanwhile, Kevin Duchene (9-1, above) gave up two whole runs in seven innings on five hits.  Cody Sedlock came in relief in the eighth but it just wasn't his day.  He immediately loaded the bases on two hits and an error.  Tyler Jay was called in with the bases loaded and no outs to get the Illini out of the jam.  Jay did induce a double play but not without allowing a run-scoring hit first.  Another run scored on a passed ball as well putting Rutgers within one run 5-4.
Jay came out for the ninth and put down the Scarlet Knights with only one hit.  Kevin Duchene earned his ninth win of the year and Tyler Jay gets his 10th save. 
For the game, Adam Walton and Ryan Nagle both got three hits and Jason Goldstein drove home three runs. 
| | | |
| --- | --- | --- |
| Game #49 / May 9, 2015 | | |
| | vs | |
| 6 | | 2 |
Starter Drasen Johnson (8-2) was on point for the Illini today for Game Two.  In seven innings, he gave up just five hits and no walks.  That translated to just one run charged to Johnson.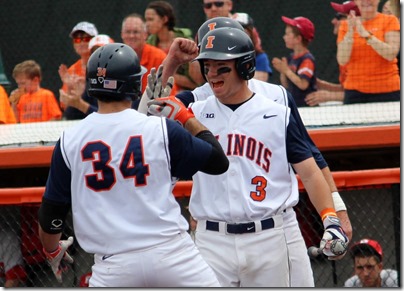 Casey Fletcher congratulates Jason Goldstein after his homerun
Meanwhile, Ryan Nagle and Jason Goldstein weren't quite done with the bat.  After a Nagle rbi hit in the first inning, Goldstein got the Illini off to an early start in the second game by hitting a two-run homerun putting Illinois up 3-1.  David Kerian added another run in the third driving home Casey Fletcher. 
Adam Walton added another with a triple in the eighth inning scoring Ryne Roper and later scored on a sacrifice fly. 
JD Nielsen came in for the last two innings.  Despite giving up an unearned run, he looked fantastic, striking out three and getting his second save of 2015. 
Random Ramblings
My photos from Game 1 are here and photos from Game 2 are here. 
Weather-wise, they couldn't have planned it better.  It was a perfect day for baseball for both games.  Then once Game Two was over, it started to rain.  Let's hope tomorrow's weather let's us play one more. 
For my money, Rutgers is playing tough.  Despite being 5-15 in the conference and playing the #3 team in the nation, they've played two close games.  If it weren't for some mental errors on their part, we might be looking at some different scores.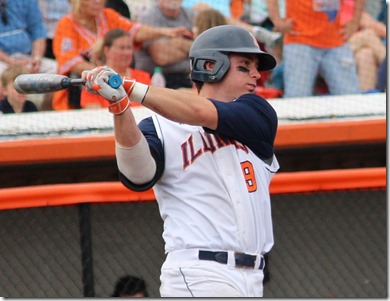 #1 and #2 guys Adam Walton and Ryan Nagle (above) combined for nine hits today.  I'm no baseball whiz but when your leadoff guys get on, you're going to win games. 
Next up
Illinois will try for its 24th straight win and sixth straight Big Ten sweep tomorrow against Rutgers.  John Kravetz will be on the mound.  Game time is 11am. 
Go Illini!!
Related posts