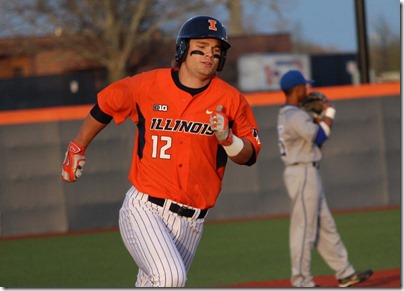 David Kerian now leads the team in HR (9) and hitting (.346)
The Illinois offense got off to a slow start but once they got cookin' they couldn't stop.  Hitless through four innings, the Illini caught fire with David Kerian's ninth homerun of the season.  By the time the dust settled, Illinois defeated the Eastern Illinois Panthers 10-1 behind the strong pitching of starter Rob McDonnell who earned his fifth win of the season.
The win is the 14th in a row for the Illini, the best active streak in the nation.  At the 40 game mark, #9 Illinois is now 33-6-1.
| | | |
| --- | --- | --- |
| Game #40 / April 21, 2015 | | |
| | vs | |
| 6 | | 3 |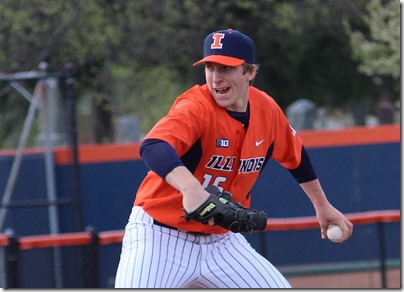 Rob McDonnell gets the win on Tuesday night
McDonnell pitched six innings of four-hit ball, striking out six Panthers.  With all the press that the starting pitchers and Tyler Jay get, McDonnell might not get as recognized.  As of tonight though, he is 5-1 with a 1.79 ERA.  Not only that, he's struck out 52 batters in 55 1/3 innings.  Nick Blackburn got a scoreless inning in after McDonnell left the game.  And speaking of Tyler Jay, he put some work in too.  He finished the game with two shutout innings striking out three.  His ERA dips to 0.68 for the season.
The Illini packed in a lot of offense in four innings tonight.  Kerian's homer in the fifth inning just got things started.  EIU pitching fell apart in the sixth inning when they walked in two runs.  In between, Casey Fletcher banged out a two-run single.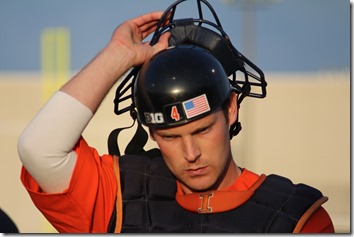 Four hits and a Panther error contributed to four more Illinois runs in the eighth inning.  Kelly Norris-Jones drove home two with his first triple of the season.
Random Ramblings
Trying something different with the photos today.  Let me know what you think.  If you can't see them correctly, you can always check them out at the IBR photo gallery.
Next up
The Illini will go on the road for a spell.  They travel to Penn State this weekend for a three game set.  Friday's game is scheduled for 5:30pm CT.
Way to go, Illini!
Related posts