Not one but TWO Illini baseball players were honored by the Big Ten today for their performances for the past week.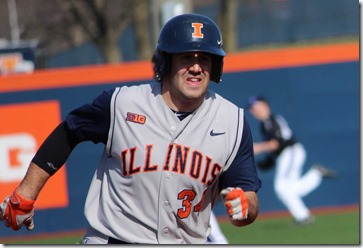 Jason Goldstein was named Big Ten Player of the Week, the first for the Illini of 2015.  And what a week he had!  With four multi-hit games, Jason batted .600 while hitting four doubles and a homerun.  He drove in seven runs while also scoring seven. 
Goldstein upped his batting average to .287 and has collected 21 rbis for the season. 
SPOILER:  it's midway through Tuesday's game against Eastern and Goldy is still on fire.  He's 2 for 4 with a homerun and 5 rbis.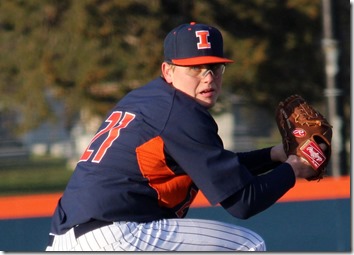 As for Kevin Duchene, it's time for him to find more room on his mantle.  He's won his fourth Big Ten Pitcher of the Week award and his second this season.  His start on Friday was nothing short of phenomenal.  Kevin pitched nine innings and allowed no earned runs while striking out ten batters in the 13-inning battle against Northwestern.  He is now 4-1 and sports a nifty 0.64 ERA for the season.
As Co-Big Ten Pitcher of the Week, he shares the award with Tanner Tully of Ohio State. 
Duchene's award this week was the fourth Big Ten Pitcher of the Week won by an Illini:
Feb. 16 – Rob McDonnell
March 9 – Tyler Jay
March 23 – Kevin Duchene
April 7 – Kevin Duchene
Congrats to Jason and Kevin!!
Related posts