Duchene climbs to 6-1 for 2015
Friday's game started out auspiciously enough when Kevin Duchene hit Indiana's leadoff batter in the first inning.  Two at-bats later, that run scored giving the Hoosiers a quick lead.  However, Illini leadoff man Adam Walton didn't waste time getting back into the game.  He hit his the second pitch over the left field wall to tie it. 
The Hoosiers would not see home plate again after the first.  Duchene settled down and struck out nine batters in seven innings, walking just one.  He is now 6-1 for the year.  Illinois added plenty of offense to supplant Walton's solo homer.  Jason Goldstein hit a game winning homer in the third inning, his fifth dinger of the year.  Illinois won by a score of 5-1 putting them at 31-6-1 and 9-1 in the conference. 
Friday's win in front of the third largest crowd ever in school history (4,019) is Illinois' twelfth in a row and remains the longest current winning streak in the country for the #11 team. 
| | | |
| --- | --- | --- |
| Game #38 / April 17, 2015 |   |   |
| | vs | |
| 5 |   | 1 |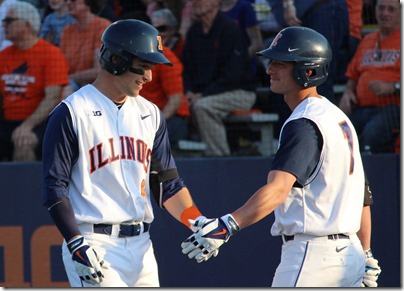 Hearty congrats for Adam Walton from Reid Roper
To say Friday was an emotional day for Kevin Duchene would be an understatement.  That morning, he attended his grandmother's funeral.  He then traveled to Champaign to pitch one of the biggest games yet this season.  I guess his off-inning in the first when he hit a batter and gave up two hits is understandable.  Kevin came through and pitched like a pro for the next six innings not giving another run.  He really showed some fortitude.  Cody Sedlock came in the eighth inning and pitched two scoreless innings to keep the Illini in the game.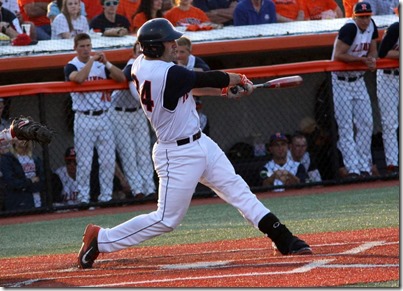 Jason Goldstein's HR in third puts Illinois ahead
Adam Walton's leadoff homerun in the first to tie the game was a big boost for the Illini.  Two innings later when Jason Goldstein put Illinois ahead for good with his own solo homer to left. 
In the fourth, Will Krug showed some hustle and moved from first to third on a bad Indiana throw and then scored on a single by Ryne Roper.  An inning later, Casey Fletcher doubled home Reid Roper and later scored on Will Krug's base hit. 
Friday night featured multi-hit games by Walton (2 for 5, HR), Goldstein (2 for 4, HR), Fletcher (3 for 4, 2B) and David Kerian (2 for 4).  Goldstein has now extended his hit streak to lucky 13.
Random Ramblings
Photos from Friday's game are up in the IBR photo gallery.
The first few few photos in the gallery are of a player in red.  Don't worry, he's a familiar face.  That's former Illini shortstop Shawn Roof who is now the assistant coach for the Hoosiers.  He and I caught up a bit before the game.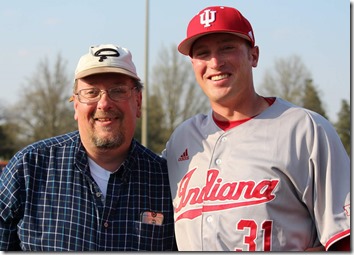 During the game, I pointed Roof out to some long-time local fans.  "That's Shawn Roof?", one said.  "You mean, THE ROOF! THE ROOF!?."  Nobody forgets Shawn Roof. 
Much has been made of Illinois baseball's comeback games of late.  I guess technically, Friday's game is considered a comeback but it only took Adam Walton two pitches to take care of Indiana's lead in the first.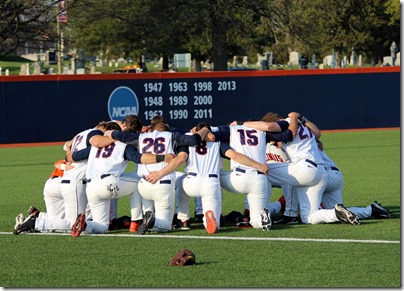 Looks like they're making more improvements to Illinois Field.  On the outfield walls, they have added the years to designate Illinois baseball successes.  On the left field wall (above), are the years the team has made the NCAA Regionals and on the right-center wall are the years Illinois has won the Big Ten Championship. 
Next up
Saturday's game at Illinois Field against Indiana is at 3pm.  Look for Drasen Johnson on the mound. 
Way to go, Illini!
Related posts