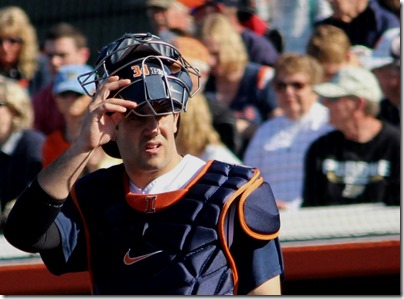 Jason Goldstein hopes to keep his 12-game hit streak alive against Indiana
Friday night's annual Bleacher Bum BBQ will kick off a three-game weekend series between the #11 Fighting Illini (30-6-1, 8-1) and the Indiana Hoosiers (21-13, 5-6 Big Ten).  With their 14-2 home record and 11 straight wins, Illinois hopes to solidify their claim on first place in the Big Ten.  They currently are tied with Iowa with an 8-1 record and one game ahead of the Ohio State Buckeyes (7-2).  Indiana now holds 7th place with a 5-6 mark. 
The Fighting Illini weekend preview is now posted.  Illinois' starters have been announced and as usual, it's Kevin Duchene (5-1, 0.75 ERA) on Friday.  Saturday's hurler is Drasen Johnson (5-2, 2.35) and on the mound Sunday is John Kravetz (3-0, 2.91). 
Illinois Field

Champaign, Illinois

Fri. April 17

6:00 pm CT

Sat. April 18

3:00 pm CT

Sun. April 19

12:00 pm CT

vs

W-L: 21-13 Big Ten 5-6
My take on Indiana
No doubt, Indiana will be our biggest opponent to date.  Their 21-13 record attests to that.  They also won twelve straight games in mid-March and have gained some attention in the national polls.  Since that streak ended on March 22nd however, they have gone 6-9.  That includes two midweek losses to in-state teams this week. 
Make no mistake though, this team is tough.  While they may not be the team they were last year, they have the offense (see Scott Donley and Logan Sowers) and the pitching (Luke Harrison has given up just three runs all year). 
This team is beatable but it won't be a walk in the park.
Random Ramblings
It's a big weekend for baseball, promotions and fun!  Aside from the free food provided by Hickory River for Bleacher Bum BBQ on Friday, there will be a limited number of rally towels, mini-helmets and post game fireworks. 
Saturday will be Illinois Baseball Card giveaway!  More cards will be given away on Sunday and the game will be televised on the Big Ten Network. 
Lots more promotions!  You can find all the details here.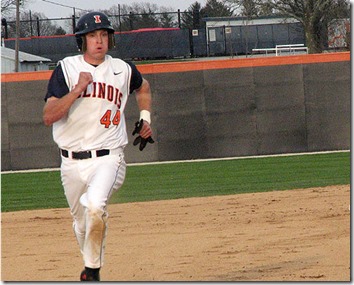 Long-time Illinois baseball fans will want to keep an eye out for Hoosier uniform #31.  That will be worn by former Illini shortstop Shawn Roof who played here 2004-2007.  That's him above as a senior with the Illini.  Now he is an assistant coach for Indiana.  Shawn was a fan favorite while he donned #44 for the Orange and Blue.  While at least for this weekend, he is now our mortal enemy, I am still looking forward to shaking his hand as he and I have stayed in touch throughout his journeys in the minor leagues. 
Big Ten leaderboard wrap-up:
David Kerian:  2nd in HR with 8, 3rd in slugging with .563
Adam Walton: 2nd in hits with 49
Reid Roper: 2nd in rbis with 33, 3rd in triples with 4
Tyler Jay: 1st in ERA with 0.71, 2nd in saves with 8
Kevin Duchene: 2nd in ERA with 0.75, 2nd in strikeouts with 53
Tyler Jay and Kevin Duchene are currently 2nd and 3rd respectively in the entire nation in ERA.  As a team, Illinois ranks seventh in the nation with a 2.51 ERA. 
See you at the ballpark!! 
Related posts