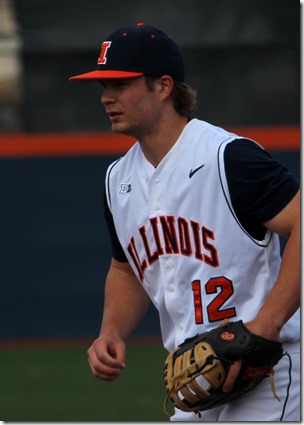 Kerian leads the Big Ten with seven homers
At GCS Ballpark In Sauget, Illinois, David Kerian was the man of the night on Tuesday night.  Down 3-2 in the top of the sixth, his two-run homerun put the Illini up for good against the Missouri Tigers.  With help from the bullpen, Illinois eventually won the Border Battle 4-3.  Starter Rob McDonnell got his third win of the year and Tyler Jay notched his seventh save.
#15 Illinois is now 21-6-1 for the season. 
It was Kerian's seventh homer for the year and he not only leads the team but the entire conference.  The Illini as a team have out homered their opponents so far this season by a 21-8 ratio. 
Rob McDonnell (5 2/3 IP, 3 runs, 6 K) got the win but the bullpen deserves some kudos too.  Nick Blackburn, J.D. Nielsen, Cody Sedlock and Tyler Jay combined for 3 1/3 innings of scoreless ball. 
Jay who pitched 1 1/3 innings, struck out all four batters he faced and earned his seventh save for the year.  He now has 17 career saves and is tied with Bryan Roberts and Jake Toohey for third on the all-time Illini list.
Adam Walton, Jason Goldstein and Ryan Nagle all had multi-hit games on Tuesday. 
Random Ramblings
It looks like the new video scoreboard at Illinois Field will be ready for prime time this weekend!  Until this year, I never gave our old scoreboard much thought.  This season though, I can tell that high tech snazziness aside, it is just plain hard to read especially in bright sunlight.  For that reason alone, I'm looking forward to the new board. 
And speaking of bragging, here is how some of our Illini stack up to the rest of the Big Ten:
David Kerian- #1 in HR with 7 and #3 in slugging .576
Adam Walton- #1 in hits with 38
Casey Fletcher- #1 in walks with 20
Kevin Duchene- #3 in ERA with 0.82 and #4 in wins with 4
Tyler Jay- #1 in Opp. BA with .143, #2 in saves with 7, and #4 in wins with 4
Next up
Get ready for a series in Champaign this weekend, fans!  Technically, it's not a "home" series but since Northwestern's Rocky Miller Park is under renovations, Illinois will be hosting the three-game series. Game time on Friday is 6pm.
Way to go, Illini!
Related posts