Nice going, @BigBob428. Go #Illini! pic.twitter.com/efurEyjnka

— Illbaseballreport (@IllBaseballRpt) April 29, 2015
With a 7-5 victory against Southern Illinois on Tuesday night, #6 Illinois baseball team has done something pretty incredible.  They have gone undefeated for a whole month.  Eighteen whole games have come and gone and the Illini have won each one of them.
With this win, Illinois maintains their perfect 8-0 record against midweek teams.  They sport a 37-6-1 record and the best winning percentage in NCAA baseball (.849).
| | | |
| --- | --- | --- |
| Game #44 / April 28, 2015 | | |
| | vs | |
| 7 | | 5 |
Tonight, starting pitcher Rob McDonnell celebrated his birthday in a big way by earning his sixth win for the Illini. He kept the Salukis scoreless for the first four innings while the Illini offense racked up seven runs.  Overall, Big Bob allowed just three runs on six hits while striking out six batters.  Nick Blackburn earned his third save of the year.
Illinois got on the board quick tonight.  Two doubles by Ryan Nagle and Jason Goldstein got things going in the first.  Casey Fletcher and David Kerian each followed that up with singles.  Two quick runs.
Kerian drove home another with a sac fly in the third inning.  Matt James started a three-run rally in the fourth with a solo homer.  Nagle drove home Will Krug on a single and Adam Walton scored on a wild pitch.  James drove home another in the fifth on a SF.
…and that would be it for the Illini offense.  Things did get a little interesting once the SIU bats got lively.  In the bottom of the fifth, the Salukis scored two.  Then one more in the sixth…then two more in the seventh.  J.D Nielsen got Illinois out of a jam in the eighth and it was up to Nick Blackburn to finish off SIU in the ninth.
Well done, team!!
Random Ramblings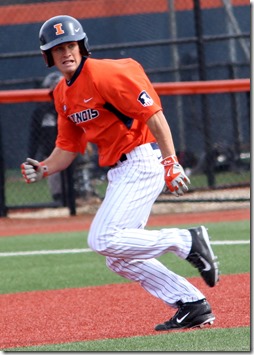 Big kudos to Illinois outfielder Will Krug who earned the Big Ten Conference Medal of Honor on Monday.  The award given to those who "demonstrated excellence on and off the field throughout their college career".  As someone who has talked to Will on occasion, I can say that no one deserves it more.
Next up
The Illini will travel to Columbus to face a very tough Ohio State Buckeye team.  Game time on Friday is 5:35pm.
Way to go, Illini!
Related posts