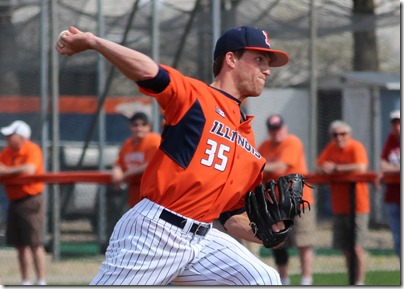 Drasen Johnson will take the hill on Saturday vs the Nits
#8 ranked Illinois baseball takes their 14-game winning streak on the road.  For seven games, they will be on the road beginning with Penn State this Friday.  Read all about it in the Fighting Illini weekend preview.  The starting pitchers are the same with Kevin Duchene (6-1, 0.82 ERA), Drasen Johnson (6-2, 2.31) and John Kravetz (3-0, 2.91) taking the mound for Illinois.  However, the schedule is a bit different.  Most notably, Sunday's game is scheduled to begin bright and early at 9am.
First place Illinois (33-6-1) is 10-1 in the Big Ten standings and hopes to distance themselves from second place Iowa (10-2) and Ohio State (9-3).  They also hope to keep alive the longest active winning streak in the country at 14 games.
Medlar Field at Lubrano Park

University Park, Pennsylvania

Fri. April 24

5:30 pm CT

Sat. April 25

1:00 pm CT

Sun. April 26

9:00 am CT

vs

W-L: 13-23 Big Ten 2-9
My take on Penn State
The Nits have a 2-9 conference record on top of their 13-23 overall record.  Not only that, their team ERA (5.03) is easily double of the Illini's (2.42).  So what's the fuss?  The Lions have a formidable 9-4 success rate when playing at their home Medlar Field.  Penn State started out cold with an eight-game losing at the beginning of the season.  Since then, they almost played .500 ball (13-15).
As mentioned before,  Penn State pitching still doesn't touch Illinois' and they have one third the homers that Illini do (11 to 34).  Nothing is ever a cake walk but as long as the good guys keep an eye on the base runners (PSU is second in the B1G in steals with 57), they should be able to handle them.
Random Ramblings
With a home record of 17-2, Illinois Field has been good to the Illini.  They haven't played too shabbily on the road either though with a 10-2-1 record.
With Illinois' considerable success, there has been a lot of projections bandied about locally regarding earning national seed for the NCAA Tournament and hosting a Regional tournament.
D1Baseball put out this latest projection:
"Illinois, despite being a cold-weather team, actually has more quality wins than Arizona State — the Illini are 2-1 against the top 25, 8-3 against the top 50, and they're only one spot behind ASU in the RPI rankings at No. 17. Both teams own a series win against Big 12 co-leader Oklahoma State, but Illinois did it on the road. For now, we gave the edge to a second national seed in the West, but the Illini are certainly nipping at ASU's heels."
At this point, the Illini are in line to host a Regional at this date per D1Baseball's Field of 64 projections (as of April 22).
A big caveat from me:  These are all projections and "what-ifs" .  Many in the local media need to slow down and treat them as that.  A lot can change in four weekends, especially when two tough teams are on the schedule.  I'm a big believer of not counting your chickens before they hatch so take this as purely informational.  Personally, I'd like to see the Illini go out at win each game at a time.  Baseball politics can only mess with a player's head.  Leave the baseball punditry to the pundits.  Let's just see some good baseball.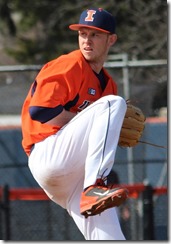 Congratulations to Tyler Jay yet again!  He has been named to the Midseason NCBWA Stopper of the Year list.  Jay, who has a 0.68 ERA in 40 innings pitched, is one of 39 named to the list.
That's not all.  Kevin Duchene joins Tyler Jay on the first watch list for the National Pitcher of the Year sponsored by the College Baseball Hall of Fame.  Duchene's numbers are equally impressive.  He has a 6-1 record with a 0.82 ERA with 62 strikeouts in 55 innings.
Congrats and good luck to both Tyler and Kevin!
Finally, stop on by The Champaign Room to read their baseball news.  If you recognize the photo, it's because IBR and TCR have partnered so that some of my photos will be featured along with their baseball coverage.
Good luck, Illini!!  
Related posts