Pat McInerney (27)is welcomed at home plate by Casey Fletcher after his 3-run HR in the first
On Saturday, the Illinois offense exploded early for three homeruns and and ten runs as the Illini defeated the Purdue Boilermakers 10-5.  Starting pitcher Kevin Duchene pitched six solid innings and won his team-leading fifth victory.  The win is #12 Illinois' eighth straight and puts their record at 27-6-1 bolstering their best start in school history. 
It was a capacity crowd helped out by University of Illinois' Mom's Day festivities.  The official count was 2,843 which is the sixth largest ever. 
| | | |
| --- | --- | --- |
| Game #34 / April 11, 2015 | | |
| | vs | |
| 10 | | 5 |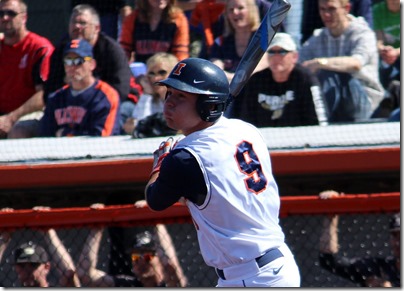 Ryan Nagle's double in the first extended his streak to 15 games
Ryan Nagle, Casey Fletcher, Pat McInerney and Reid Roper were key offensively in today's win.  Together, they drove in nine of the ten runs.  Pat McInerney who missed a few games due to a minor hand injury last weekend. proved he was up to the task.  On his first at-bat in the first inning, he hit a three-run homerun over the left field fence.  I knew when I heard the crack of the bat that it was gone.  Thwack!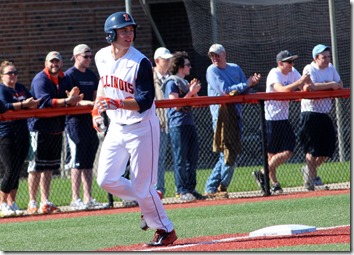 Is it a homer?  Ryan Nagle wants to be sure.
In the second, Ryan Nagle added to the 5-0 lead with his first homer of the year.  He hit long fly to right.  The Purdue right fielder made valiant attempt to catch it as he slammed against the outfield wall.. Many in the park weren't sure if he came down with the ball including I think, Nagle himself who was watching as he rounded third base.  Nagle who went 3 for 5, extended his hit streak to 15 games.   
Reid Roper piled on to the lead with his fifth homer of the year in the fourth inning.  It was a two-run shot scoring Nagle.  As for Casey Fletcher, he got a hit every time he was up.  He went 4 for 4 scoring twice and driving in a run.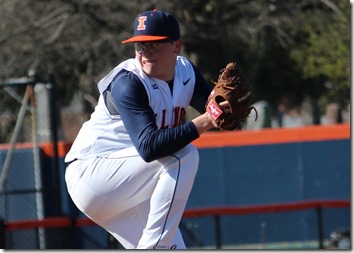 A typically solid performance by Duchene
Starter Kevin Duchene pitched six solid innings and gave up just one run.  The running joke with Kevin is of course, that his ERA will still go up slightly.  His ERA is now at 0.75 which is second best in the NCAA.
Things got a little dicey once Duchene was pulled.  Purdue scored four runs off Charlie Naso in the next two innings but righty Cody Sedlock came in to shut the door.  He pitched 1 1/3 scoreless innings to finish off the Boilermakers. 
Random Ramblings
Photos from today's game are up in the IBR photo gallery.
Worth mentioning… Purdue had the same amount of hits as the Illini today.  Both teams had 13.  Illinois just had more of the kind of hits that drive in runs. 
"Mr. Reid Roper had some special fans in the crowd today…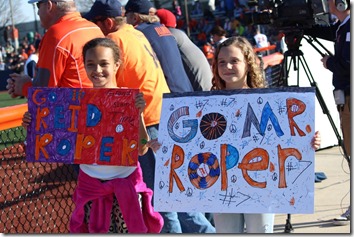 … glad he really delivered with his HR in the fourth! 
Finally for those paying attention to the Big Ten race, Iowa lost to Maryland last night.  Up until then the Hawkeyes were the last undefeated team in conference play.  They are now 7-1. 
Next up
The second game with Purdue is Sunday at noon at Illinois Field.  Drasen Johnson (4-2, 2.53 ERA) is the probable starter. 
If you can't make it to Illinois Field, check out the game on the Big Ten Network. 
Way to go, Illini!
Related posts