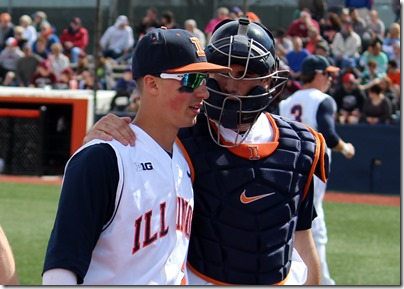 "Did you hear?  There's a game on Wednesday!"
The Illinois baseball team just can't wait till the weekend so they've scheduled a midweek game this week.  On Wednesday, March 18, they will host Lindenwood-Belleville at Illinois Field. The game will start at 4pm. 
The Lindenwood-Belleville Lynx of the Midwest conference are based out of Belleville, Illinois.  If you haven't heard of them, it may be because this will be Illinois' first matchup with them.  They are currently 7-12 in the 2015 season. 
Meanwhile, the #18 Illini (14-4-1) took advantage of the nice weather on Monday to get some practice in. 
See you at the ballpark!
[corrections made 3/17]
Related posts