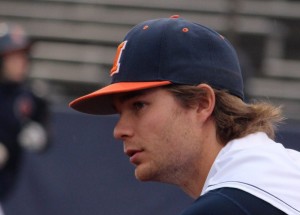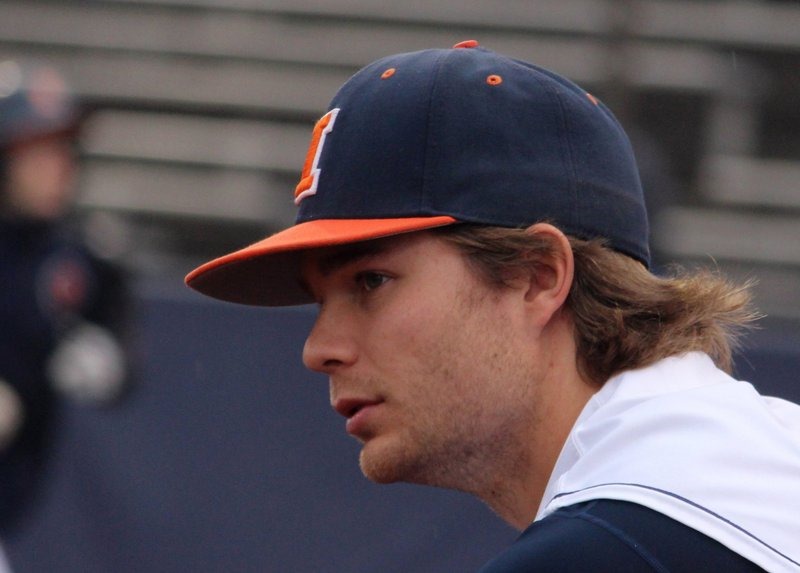 David Kerian is currently on a 12 game hit streak
David Kerian extended his hit streak to 12 games and hit his sixth homer of the season but it just wasn't enough for an Illini win.  The Michigan State Spartans outplayed Illinois on Sunday and won 5-2.  They handed Drasen Johnson his second loss of the season giving Illinois a 19-6-1 record for the year.
This put the series tied at one apiece and both teams looking for a series win on a rare Monday conference game.
| | | |
| --- | --- | --- |
| Game #26 / March 29, 2015 | | |
| | vs | |
| 5 | | 2 |
The Spartans just plain outhit the Illini.  While senior right hander Drasen Johnson (3-2) didn't give up any walks in six innings, MSU got nine safeties off of him.  Michigan State's key 3-run inning in the fifth really did the Illini in.  Four hits by the Spartans in that inning sparked the rally.
In addition to Kerian's performance, Adam Walton continued on his formidable pace.  He contributed two hits and an rbi in the loss.  Will Krug who is fighting to get back in the lineup, hit a double in the third inning and eventually scored a run on an Adam Walton single.
Today's game saw Rob McDonnell's first relief appearance.  After coming in for Drasen Johnson in the bottom of the seventh, he pitched a scoreless inning.
Random Ramblings
Tomorrow will be a big test for the Illini and especially starting pitcher John Kravetz.  For one reason or another, career win #21 has eluded Kravetz for the last few weeks and this week would be a perfect time to pull that one in.
For those who haven't seen it, The Champaign Room has done a Big Ten conference season preview.  It's worth the read.
Next up
The rubber game between the Illini and the Spartans takes place Monday at noon in East Lansing.  John Kravetz  will be the starting pitcher.
Go Illini!
Related posts