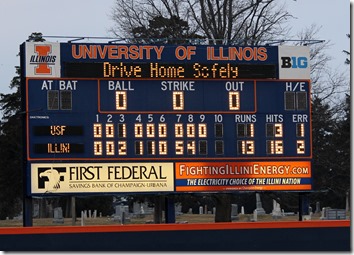 The scoreboard says it all. 
Not only did Kevin Duchene pitch a masterpiece but the Illinois (16-4-1) exploded with the bat in Friday's game against the University of South Florida Bulls (15-7-1).  Facing just 26 batters, Duchene gave up just two hits and one unearned run in seven innings for his third win of the season. 
Meanwhile, the Illinois offense scored 13 runs on 16 hits and two homeruns by Reid Roper and David Kerian.  The final score of the game was Illinois 13 USF 1 giving Illinois a quick edge on the three game weekend series. 
| | | |
| --- | --- | --- |
| Game #21 / March 20 , 2015 | | |
| | vs | |
| 13 | | 1 |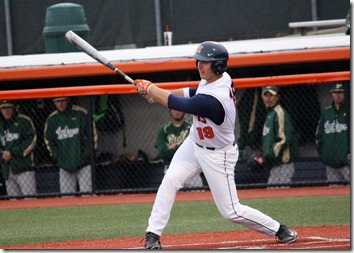 Dan Rowbottom singles in the 8th
I got to the game late coming from work.  As I crossed Mount Hope Cemetery, I heard the PA announcer… "A solo homerun for Reid Roper!"  So I knew we were on the board.  I soon found out the score, 5-1.  Little did I know that there was more to come.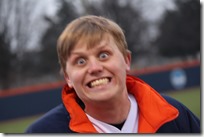 The Illini combined for nine runs in the eighth and ninth innings despite Coach Hartleb replacing most of the starters.   I'm sure Kevin Duchene (left) was happy for the support. 
It was a good to see that a lot of our second stringers got into the game.  Not only that, a lot of them produced.  Trevor Murphy got a hit and scored a run.  Dan Rowbottom also knocked a hit and scored.  That's his second hit in this week.  Pinch runner Josh Ferry crossed the plate.  Kelly Norris-Jones relieved Jason Goldstein behind the plate again and drove home a run with a base hit. 
For the game, Adam Walton and Pat McInerney were big contributors along with Roper and Kerian.  Walton went 2 for 5 with a double and two rbis.  McInerney was 3 for 3 with two doubles and two rbis. 
After Duchene left in the seventh, Doug Hayes and Andrew Mamlic both pitched one scoreless inning each to close out the game. 
Random Ramblings
Just a few photos today.  You can find them here. 
It was a big win today.  This was USF's first loss in ten games so you know it has to be a boost for the Illini.  Further, they were facing starter Jimmy Herget who has only given up three earned runs all year… till today.  He gave a total of seven in today's game.  If you delight in schadenfreude (not that I do), his ERA went from 0.85 to 2.37 in just one game.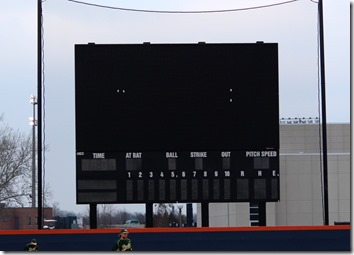 The new scoreboard is now up!  It's not quite ready for use but it looks good!  You can read about the specs at the Fighting Illini web site. 
And here, just because this photo of Quinten Sefcik just begs to be posted…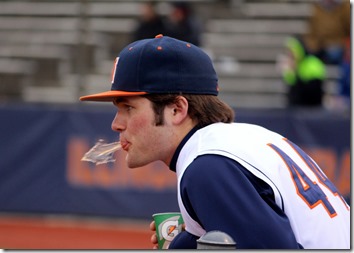 Next up
The Illini will continue their series against the USF Bulls on Saturday at Illinois Field.  Game time is at 1pm and Drasen Johnson will be on the mound. 
Nice work, Illini!!
Related posts