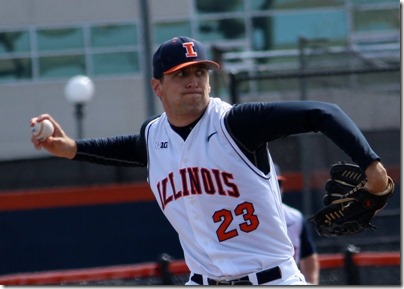 John Kravetz improves to a career 21-7 record
It was wild, wooly game up in East Lansing today.  After getting off to a 7-0 lead, Illinois sustained a Spartan rally and prevailed in the last game against Michigan State, 13-9.  John Kravetz came out the winner and is now 2-0 for 2015.  He now has 21 career victories and alone in eighth place on the all-time wins list for Illini. 
The series win is the fourth in a row for Illinois and the first in the Big Ten season.  Illinois who is now ranked #15 in the nation, has a record of 20-6-1 which is the fastest they have reached that mark since 1989. 
| | | |
| --- | --- | --- |
| Game #27 / March 30, 2015 |   |   |
| | vs | |
| 13 |   | 9 |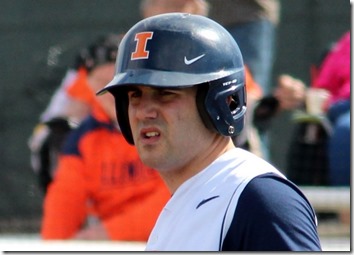 3 for 4 day for catcher Jason Goldstein
The Illini got off to nice 7-0 lead by the sixth inning thanks to a second inning rally which plated five runs.  Four straight hits started that inning.  Add in a bases-loaded walk and a wild pitch plus a two-run single by Adam Walton by the end of the inning, five Orange and Blue runs had scored. 
By the bottom of the sixth, it was 7-0 but the pendulum was swinging towards Michigan State.  John Kravetz kept them at bay for five innings keeping them scoreless but their time had come.  They scored nine runs in the next three innings. 
Fortunately for the Illini, they weren't quite done with their bats.  David Kerian and Jason Goldstein both had key hits in a three-run seventh inning.  Illinois duplicated that effort in the ninth by scoring three more when two Spartan wild pitches brought home Illini runs and Walton again drove home a run with a single. 
Tyler Jay came in the bottom of the ninth to finish off the Spartan though it wasn't a save situation.  He did so in one-two-three fashion striking out one batter.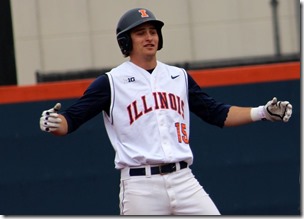 Ryne Roper:  Two hits, two runs, and two rbis on Monday
Giving credit where its due… Adam Walton was 3 for 6 with 3 rbis.  Jason Goldstein went 3 for 4,, a double, 3 runs and 2 rbis.  Ryne Roper was 2 for 4 with a double, 2 runs and 2 rbis and Casey Fletcher was 2 for 4 with 3 runs scored. 
Random Ramblings
There is something about Illinois-Michigan State games.  In the past few days, I've already alluded to Casey Fletcher's walk-off wins last year.  But what about that the 7-0 lead that MSU had back in 2007?  You know, the one that Illinois managed to come back from and win 8-7 and put them in the Big Ten Tournament??
Mini-poll watch
I mentioned this earlier but it's worth repeating.  Illinois has gone up in most every national poll yet again.  They are ranked #15 according to D1Baseball. 
| | | |
| --- | --- | --- |
| National Poll | Illinois' Ranking | Previous Ranking |
| NCBWA | 24th | 26th |
| D1Baseball.com | 15th | 17th |
| Collegiate Baseball | 22nd | 18th |
| Baseball America | 24th | 25th |
| USA Today Coaches' Poll | 21st | 22nd |
The #15 ranking is the highest that Illinois has been since 1962 when they were ranked #11. 
Kravetz get his… and more
John Kravetz finally got his win.  But he also passed another milestone on Monday's game.  He is now at career 301 innings which passes former Illini Jason Anderson for fifth place on the all-time list.
Next up
No rest for the weary.  The Illini play again tomorrow on the road.  They take on the Missouri Tigers at GCS Ballpark, the home of the Gateway Grizzlies of the Frontier League.  Game time on Tuesday is 6:30pm. 
Go Illini!
Related posts