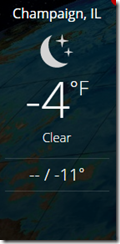 As the University of Illinois campus is suffering its coldest day of the year, I can only look forward to the Illinois baseball season in (hopefully) warmer weather. 
It won't be long though.  In a little more than five weeks, the Illini will start their season in Beaumont, Texas at the Lamar University Cardinal Classic.  On February 13, they will take on opponent New Mexico State. 
The first home game?  That's a little more than two months away when Illinois hosts Chicago State on March 10th. 
In two weeks, it will be time for the annual Hot Stove Banquet at the Hot Stove Banquet.  It will take place at the iHotel on January 24th.  If you want to absorb some warm baseball vibes including guest speaker former MLB player Hal Morris, reserve your seat at FightingIllini.com.  My wife and I will both be attending.  To what kind of fun that can be had, here are photos from last year's banquet. 
Finally, Coach Dan Hartleb did a pre-season just interviewed today.  He spoke on the team's trip to the Dominican Republic as well as the Illini's entrance into the national top 40 rankings. 
Hope to see some of you at the banquet!!
Related posts