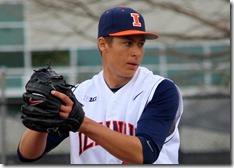 The 2014 Wisconsin State League awards are out and behold, an Illini pitcher is among the honorees!  Andrew Mamlic who played for the Lombard Orioles in the summer, was named yesterday as a recipient of the WSL award. 
Mamlic had a fantastic year for the Orioles, leading the Lombard Orioles in pretty much every meaningful category.  He was 8-0 with a miniscule 1.88 ERA.  He also led the team in strikeouts, starts, innings pitched and of course, winning percentage. 
Congratulations, Andrew!  Looking forward to having you back in the spring!
Related posts