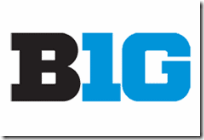 The Big Ten Conference has been busy arranging venues for future Big Ten Baseball Tournaments, it seems.  With record breaking crowds at this year's tournament at the TD Ameritrade Park in Omaha, the conference has decided to return in two years and locked up dates for the 2016 and 2018 tournaments.  TD Ameritrade is the home of the NCAA Division I College World Series. The official dates are May 18-22, 2016 and May 23-27, 2018.
Big Ten Commissioner James Delaney gave the official word:
"We are very excited to return to TD Ameritrade Park for the 2016 and 2018 Big Ten Baseball Tournaments.  It was amazing to see so many passionate fans at the Big Ten Baseball Tournament this past May, and we look forward to coming back to Omaha." 
The 2015 Big Ten Baseball Tournament will take place at Target Field, home of the Minnesota Twins.  Target Field was home of the 2013 conference tournament.   No word yet if there is a venue set for the 2017 tourney though there is certainly time to get that settled. 
On a related side note, TD Ameritrade Park is home to the Creighton Blue Jays.  Creighton University just happened to be the last stop for Illinois' new assistant coach Spencer Allen.  He served as associate coach and recruiting coordinator for the BlueJays. 
Related posts