Like almost every other one of his starts this year, Drasen Johnson did his part. Unfortunately, it wasn't quite enough.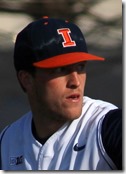 In Game One of the Big Ten Tournament in Omaha, the Fighting Illini couldn't get the offense going against Michigan State.  While Johnson struck out a career high ten batters and only allowed two runs and just one earned in seven innings, the Illini could only muster a run on a walk by Ryne Roper in the third inning.
Coach Dan Hartleb on Drasen Johnson today:
"Drasen has been good for us all year, but we haven't given him any run support at all.  He had a tough first two innings but battled his way through it. The winning run was an inning where we didn't talk on defense and didn't get an out on a bunt play. Drasen deserved to win again today, but we didn't get our jobs done."
| | | |
| --- | --- | --- |
| Game #51 / May 21, 2014 | | |
| | vs | |
| 2 | | 1 |
Johnson has had a hard luck 2014 season.  Despite a 2.91 ERA in 15 starts, he has a 5-7 record.  He's allowed two or fewer runs in a game eight times this season and the Illini offense average 2.4 runs per game when he starts.
It was Cam Gibson who got things going for Michigan State today with a leadoff homerun in the first inning.  I saw his intensity in the Spartan series at Illinois Field and I knew he would be ready to even the score.  He certainly didn't waste any time.
Next up
The Illini are in the loser's bracket now at the Big Ten Tournament.  To stay in it, they'll need to win.  It will be another 9am game on Thursday this time against #7 seed Ohio State who lost against Nebraska.
For the full Big Ten Tournament bracket and other info, check out Tournament Central.
Go Illinois!!
Related posts