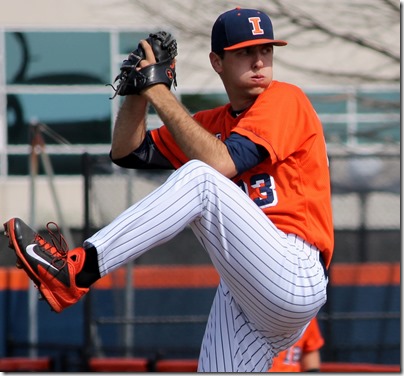 John Kravetz goes for win #6 on Saturday
This is it, local Illinois baseball fans!  If you waited to see the Fighting Illini baseball team (27-14, 10-5 Big Ten) in action, this weekend against Michigan State (27-14, 8-7 Big Ten) is the last chance you can see them at Illinois Field.  The 2014 schedule has the boys on the road for the last two weekends of the year. So clear your schedule for some good clean Big Ten action!
The Spartans' website already has their weekend preview up and if their info is correct, it will be Drasen Johnson (4-5, 3.06) on Friday and John Kravetz (5-1, 2.75), our big winner against Indiana last weekend, on Saturday.  No pitcher has been determined for Sunday.
Illinois Field

Champaign, Illinois

Fri. May 2

6:00 pm CT

Sat. May 3

1:00 pm CT

Sun. May 4

1:00 am CT

vs

24-17 (8-7 Big Ten)
The Spartans are probably the most comparable team to the Illini at this point. Start with their overall records which are identical at 24-17.  The Illini (10-5) have a decisive edge in conference play though compared to MSU's 8-7 mark.  The Spartans upped that record with a three game sweep against Northwestern last weekend.
Both Michigan State and Illinois rely on their superb pitching, too.  The Spartans currently have a 2.85 team ERA, even lower than Illinois' 3.22 mark.  Their starters have been stingy in giving up runs.  Mick VanVossen (6-2, 2.72), Justin Alleman (5-1, 2.53) and freshman Cam Vieaux (6-3, 2.06) have all performed well and consistently. VanVossen leads the Big Ten in strikeouts with 60.
The key for the Illini is to score early.  According to MSU's preview, "MSU is 9-1 when scoring in the first inning and 18-2 when it scores first.".  The Spartans are not prone to giving up the comeback loss.
Following this weekend's games
Get out to Illinois Field this weekend!  If you can't though, you can follow the games via GameTracker.  WDWS will be broadcasting at AM1400 with Dave Loane and Co. behind the mike.  As always, here's the Twitter feed for @IllinoisBaseball.
Saturday will be Honor and Serve Day, honoring U of I veterans and all members of the US military.  The players will be wearing special camo jerseys and they will be auctioned off after the game.  The proceeds will benefit Champaign County Court Appointed Special Advocate (CASA).
SIU feels Casey Fletcher's wrath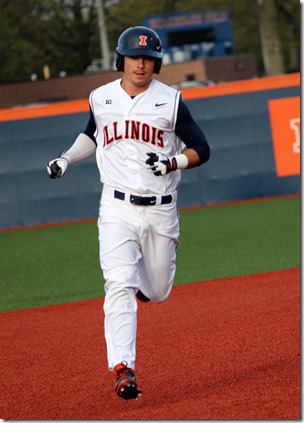 Congrats to Casey Fletcher and the rest of the Illini on their 10-1 midweek win over Southern Illinois on Wednesday.  Fletcher hit three homeruns and drove home five runs.  It was the first multi-homer game for an Illini this year.
From the game's notes on FightingIllini.com:
Illinois Baseball Players with Three Home Runs in a Game
2014 – Casey Fletcher vs. Southern Illinois (4/30/14)
2009 – Willie Argo at LSU (3/7/09)
2005 – Drew Davidson vs. Northwestern (5/8/05)
1998 – Kevin Rudden vs. Michigan (3/27/98)
1991 – Bubba Smith: 4 HR vs. UIC (4/30/91)*
1987 – Brad Wentz vs. Missouri (5/6/87 – DH Game 2)
1961 – Ernie Kumerow at Minnesota (5/13/61 – DH Game 1)
Note that Bubba Smith hit four in 1991 and holds the record.
Here are some of my photos from Wednesday's game.
See you at the ballpark!
Related posts